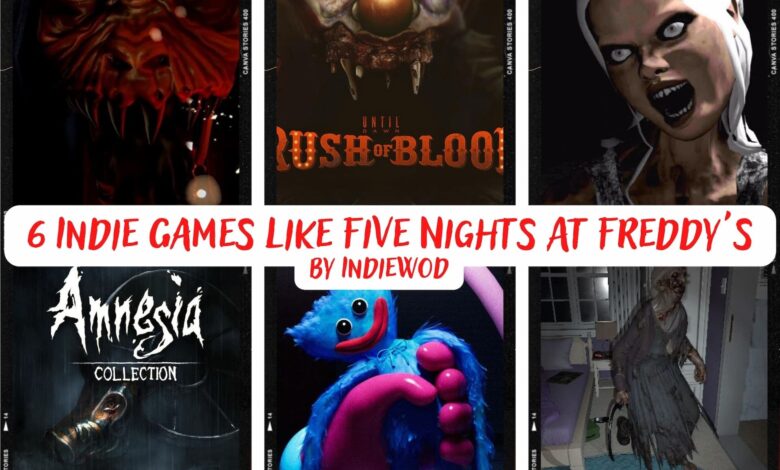 Five Nights At Freddy's is one of the best indie games in the horror genre. With its latest entry, Five Night At Freddy's Security Breach, the game managed to draw so much attention from horror game fans. If you haven't played it yet, we strongly recommend you play it as soon as possible. But if you've already played the FNAF series, here are 6 indie games like Five Night At Freddy's.
Poppy Playtime
Poppy Playtime is maybe the best alternative to Five Nights At Freddy's with its gameplay experience. The game is set in an old toy factory named Playtime Co. and follows a former employee of that factory. You, as an old employee, will revisit the factory building to solve the mystery behind the event of your team's disappearance a decade ago.
After a successful first game, the developers of Poppy Playtime recently released a second chapter as a DLC where Mommy The Long Legs is the main antagonist. The famous character, Huggy Wuggy, was the main antagonist in the first chapter.
Poppy Playtime is available on Steam. While the first chapter is free, the second chapter is on sale with a price tag of $9.99.
Phasmophobia
Phasmophobia is one of the best indie horror titles of all time. As we mentioned in our "5 Indie Games You Must Play" article, it is an extremely tense but fun game where you hunt ghosts.
You can play the game with up to four friends in online multiplayer mode, which is the best feature of Phasmophobia.
Phasmophobia was released back in 2020 and is now available on Steam for $11.19.
Emily Wants To Play
Although Emily Wants To Play was initially released in 2015, this game has never become old. Developed by Shawn Hitchcock, Emily Wants to Play puts you in the shoes of a pizza delivery person. But the thing is, you find yourself trapped in a house by a young customer, Emily. To survive against her, you have to figure out how to interact with and behave against Emily.
Emily Wants to Play was released for PlayStation 4, Xbox One, PCs, and mobile devices, including Android, iOS, and HTC Vive. Players can find the game in their stores, and its Steam price is $2.44.
Boogeyman
Boogeyman is an indie horror game that brings your childhood nightmares to your PC. Developed by Barry McCabe and published by Clock Woll, Boogeyman is also a VR game that was released in 2015.
You'll try to survive each night using your only tool until the morning lights. So, as in FNAF 4, you'll start with only one item, which is a flashlight, to defend yourself with. But if a flashlight is not enough for you, you can search the house for useful things like cherry bombs, coffee, and glow sticks.
Boogeyman is available for PCs on Steam. We want to remind you that you can play the game with a VR headset, which we strongly recommend.
Until Dawn: Rush Of Blood
Until Dawn: Rush of Blood is a PlayStation 4 exclusive game that was developed by Supermassive Games and released in 2016. The game also supports the PlayStation VR headset, which makes the game more attractive.
The game is one of the most satisfying horror game titles with its atmosphere and aesthetics that remind us of 80s horror movies. You'll sense the growing fear as you progress through the game and try to survive until dawn.
Amnesia
The Amnesia series is known by everyone who likes horror titles. The game offers a first-person horror experience in a creepy place where you sense mystery and danger in every corner of its map.
Although the game was initially released in 2010, it still draws the attention of new horror game fans. You can find the game on Steam for $2.99. It is also available on the Nintendo Switch, PlayStation 4, Xbox One, and mobile devices with Android OS.