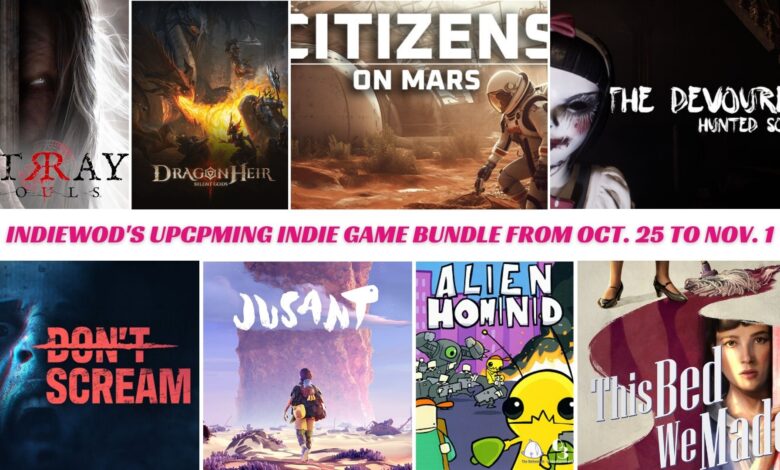 Get ready to level up your gaming experience with IndieWod's incredible indie game bundle from October 25 to November 1! This week's lineup is packed with the hottest upcoming games, including an adventure shooter game with a horror theme, Stray Souls; a city-building game, Citizens: On Mars; a first-person survival and psychological horror game, The Devourer: Hunted Souls; a remake of a Newgrounds flash game, Alien Hominid Invasion; and a thrilling third-person narrative, This Bed We Made. Keep your eyes peeled for these eight amazing indie games that you won't want to miss out on!
Remember, you can discover more indie games by staying tuned to IndieWod's indie game bundle.
Stray Souls – October 25
The spooky month of October is upon us, and with it comes the debut release of indie game studio Jukai Studio's Stray Souls. Set to release on PC via Steam, PS5, and Xbox Series X|S, the third-person survival horror indie game takes players to a haunted town to uncover a horrid family secret.
The story revolves around a teenage boy named Daniel who inherits his grandmother's debt-free home, only to find it quickly transforms into a nightmarish dwelling teeming with horrors beyond his imagination.
Powered by Unreal Engine 5, the publisher Versus Evil teases that the title will combine beloved elements of Japanese survival horror games with an array of new tricks, including a variety of randomized systems to ensure enemy encounters, item placement, paranormal activity and even weather patterns are always changing to keep things fresh and exciting for each playthrough.
The game will also feature a spine-chilling soundtrack composed by legendary Silent Hill composer Akira Yamaoka, who promises to deliver a memorable experience that will leave players on edge.
Citizens: On Mars – October 25
Citizens: On Mars is a one-of-a-kind game that fuses the intrigue of logical puzzles with the thrill of city-building. The game releases on October 25 for Microsoft Windows-operated PCs on Steam. 
Mars, the enigmatic Red Planet, has forever fascinated humanity. In Citizens: On Mars, you are handed the reins to shape this barren land into a bustling Martian metropolis.
As the pioneering leader of a Martian colony, your prowess will be tested as you manage resources, carefully plan every turn, and expand your budding settlement. But Mars is unpredictable. You should brace yourself for random challenges—whether it's addressing Worker Strikes or outsmarting Smuggler Dominance.
Citizens: On Mars' pivotal aspect of gameplay is the faction system. Harmonizing the diverse needs of the Social, Scientific, and Industrial leaders is paramount to your colony's progress. Diplomacy and strategy go hand in hand as you journey through a meticulously hand-crafted campaign that measures your leadership acumen.
For those yearning for a fresh experience every time, the game's random map generator promises infinite replayability. Traverse unknown terrains, stumble upon new resources, and carve out unique strategies every time you play.
The Devourer: Hunted Souls – October 26
The Devourer: Hunted Souls is a seamless blend of first-person survival and psychological horror game that allows you to step into the chilling embrace of a haunted forest in "Forest Phantoms".
In the game, you'll join forces with up to five players as you adopt the role of a paranormal investigator and navigate a maze of photo-realistic terrains powered by Unreal Engine 5.
The game also features eerily lifelike MetaHuman characters. Each investigator brings their unique skills to the fore, enhancing the gameplay experience.
The Devourer: Hunted Souls' dynamic puzzles, which adapt to player numbers, challenge the mind while adjustable bodycams dial up the immersion, ensuring you feel every heartbeat, jumpscare, and chilly gust of wind.
Yet, the real terror lies in death—a fate not marking the end but a descent into another spectral realm. Survival becomes a group effort, for if one falls, the jeopardy magnifies for all.
The Devourer: Hunted Souls will be released on October 26 on Steam only for Windows PCs.
Dragonheir: Silent Gods – October 26
Dragonheir: Silent Gods is an open-world fantasy RPG with a massive amount of content. It's been developed and published by Nuverse and will be released on October 26 on Steam for PCs, including Windows and Mac and IOS and Android-operated mobile devices.
You will explore the lands of Adenthia as you fight for freedom and power, choose from over 200 adventurers with unique professions, battle traits, and elements, and recruit them into your party, position them on a grid, and use their skills to defeat enemies and complete quests.
The game also features a semi-strategic combat system that takes into account adventurer synergy. It uses a mix of auto-battle and careful planning, with heroes positioned on a grid to take advantage of their strengths. Players can customize their teams with equipment, runes, and divine artifacts.
Apple highlighted the game at WWDC 2023 as one of the games to watch, and it features support for Apple's hardware-accelerated graphics and Spatial Audio. The game has over 3 million registered players worldwide.
Don't Scream – October 27
Developed by two developers, Joure and Joe, Don't Scream has players exploring a fictional Pineview Forest in '90s camcorder style. What sets it apart from other found footage games, however, is the fact that time only moves if players remain silent. Any scream, whimper, or even a minor squeak will send players back to the beginning of the game.
While players can talk during the game, they will need to calibrate their microphone so that a mere squeak or quiet gasp doesn't flag a restart. While the developers note that it is technically possible to bypass this calibration in order to shout through scares, they think doing so would "spoil the thrill."
Don't Scream will enter early access on October 27, with Joure and Joe planning to add deeper lore and additional scary elements as the game progresses. For now, though, players can look forward to a short but spine-chilling experience that may last up to 18 minutes.
Jusant – October 31
With so many high-octane action games hitting the market at the moment, it's no wonder some gamers are starting to burn out. Jusant aims to take some of the stress out of gaming by offering a more meditative experience.
In this beautiful, calming, and relaxing game, you ascend an impossibly tall tower with diverse biomes and a rich backdrop story. You can climb at your own pace, mastering various climbing tools and paths with the help of your watery companion, the Ballast, while discovering the tower's mysterious past.
Unlike other games, Jusant doesn't rely on dialog or cutscenes to tell its narrative. Instead, the game reveals itself through environmental storytelling and notes found throughout the tower.
Developed by Don't Nod, Jusant is set to release on October 31 for Steam, Xbox Series X|S, and PlayStation 5.
Alien Hominid Invasion – November 1
Invade Earth alongside a Mothership full of alien friends in this co-op run 'n' gun packed with chaos, mayhem, and explosions. Unlock and equip an astronomical arsenal of weapons, boosts, and cosmetics. Fight and level up your Alien, utilizing new mechanics such as super speed and healing. Abduct enemy agents, observe human oddities, and blow up bosses in a non-linear gameplay experience.
Originally brought to life as a Newgrounds flash game 21 years ago, Alien Hominid Invasion's charming hand-drawn animations and exciting side-scroller level design would go on to influence the development of The Behemoth's general style of gameplay, later seen in titles like Castle Crashers, BattleBlock Theater, and Pit People. This remastered release retains the spirit of the original while offering a modern, hardcore gaming experience.
Play across both online and couch co-op in this chaotic run 'n' gun, supported by up to four players. Choose difficulty levels per player, allowing one person to play on Friendly while another loses their mind on Insane!
Launching November 1 on PC (Steam), Nintendo Switch, Xbox One, and Xbox Series X|S, Alien Hominid Invasion offers endless customization options, fluid character movement, chaotic mutation abilities, and a non-linear gameplay experience while continuing the story of the original.
This Bed We Made – November 1
Step back into the glamour and elegance of the 1950s as you explore the hidden lives of hotel guests in This Bed We Made. In this suspenseful mystery game, you'll enter the luxurious Clarington Hotel and take on the role of Sophie, a curious chambermaid. As you delve into the secrets of the hotel's guests, you'll experience a thrilling third-person narrative that will keep you on the edge of your seat.
As you delve into guests' personal belongings, this game offers an immersive 360° experience that blends neo-noir investigation with the thrill of piecing together a tale of love, betrayal, and murder.
Yet, it's not just about uncovering secrets; it's about the bonds you form along the way. Choose your confidante, be it the cunning Beth or the intellectual Andrew, to aid in your investigations. However, tread lightly!
The game hinges on the realism of consequences. Each room you enter, every item you touch, and the very manner in which you tidy up can dictate the unfolding of the narrative.
For lovers of vintage mysteries and interactive storytelling, This Bed We Made promises a riveting journey into the heart of human intrigue. The game will initially be launched on November 1 for Microsoft Windows (via Steam) and will be released for PlayStation and Xbox platforms in the future.