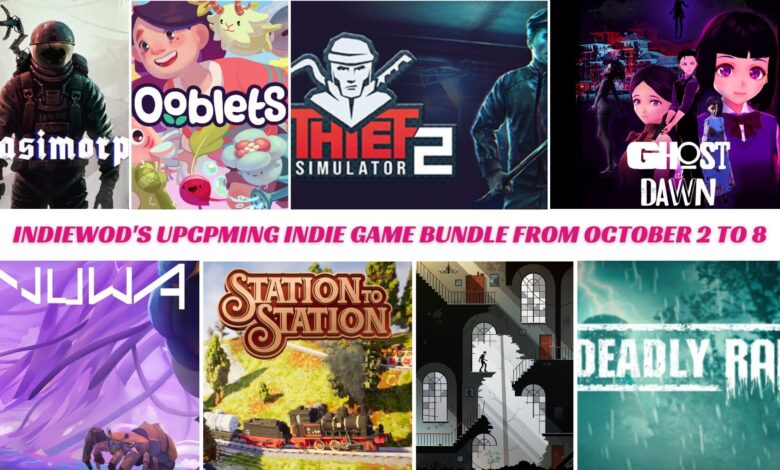 Get ready to level up your gaming experience with IndieWod's incredible indie game bundle from October 2 to 8! This week's lineup is packed with the hottest upcoming games, including a sci-fi strategy game, Nuwa; a blocky train-centric city builder simulation, Station to Station; an action roguelike, Quasimorph; a stealth-action-simulation game, Thief Simulator 2; and a farming game that combines Stardew Valley and Pokemon, Ooblets. Keep your eyes peeled for these eight amazing indie games that you won't want to miss out on!
Remember, you can discover more indie games by staying tuned to IndieWod's indie game bundle.
Quasimorph – October 2
Developed by Magnum Scriptum and published by HypeTrain Digital, Quasimorph is an action roguelike set in a futuristic world where corporations have privatized outer space. Fight ruthless mercenaries, corporate agents, and mutated demons from another dimension as you work your way through a series of procedurally generated levels that require skill and resource management.
You can embrace the future's dark underbelly with Quasimorph. This gritty turn-based space adventure tests your skills in a universe where corporations control outer space itself. You can also fight ruthless PMC fighters and even mutated demons in unforgiving missions that reward you with valuable loot.
Quasimorph was released on October 2 only for PCs on Steam.
Nuwa – October 2
Nuwa is a sci-fi strategy game that focuses on the creation of creatures. You will pilot the spaceship Nuwa, to explore an unknown galaxy, witness the wonders of bizarre animals and the remains of civilizations, look for habitable planets for human immigration, and create creatures to help you transform the planet's environment.
You can play Nuwa on your Windows PC or MacOS. The game, which was released on October 2, is now available on Steam.
Station to Station – October 3
Station to Station is a game where you create railway connections, and it has a minimalist feel that's perfect for when you want to unwind.
During the Steam Next Fest event, Station to Station made quite an impression with its blocky train-centric city builder simulation. Developer Galaxy Grove has since revealed that the minimalist railroad game will also have a custom mode upon release.
That's sure to please anyone who loves to get their "Choo choo-chugga" on with the little voxel trains that will be pottering around your railways connecting buildings so wheat gets to the windmill and flour to the bread.
The voxel art train sim Station to Station is approaching its October 3 release date.
Thief Simulator 2 – October 4
Thief Simulator 2 is a sequel to a popular stealth and simulation game. This new installment will improve its first game and introduce new tools to help you steal your way through each level.
Thief Simulator 2 is a unique blend of stealth, adventure, and simulation. The first-person perspective stealth game will allow players to carve a career out of the wicked business, starting with everyday houses and then moving on to banks and other well-protected facilities. As you progress through the game, you will learn how to better observe your surroundings and plan out each mission in order to make your escape without being caught.
You can become a master thief in this one-of-a-kind, immersive first-person perspective (FPP) stealth game, explore interactive environments, and meticulously plan heists across challenging levels, stealing items and upgrading your equipment as you go. The more you rob, the better rewards you will get, and it's up to you to make sure you don't catch the police's attention!
Thief Simulator 2 will be initially released for PCs via Steam on October 4 and then for PlayStation 5, PlayStation 4, Nintendo Switch, Xbox One, and Xbox Series X/S in the future.
Ooblets – October 5
If you're a fan of Stardew Valley or Pokemon, then you'll definitely fall in love with the charming and whimsical farming simulation of Ooblets. Developed and published by indie studio Glumberland, this delightful game combines the best of both worlds to create a quaint and picturesque gaming experience that's simply full of charm.
You arrive in the small town of Badgetown as a fish out of the water, but you're quickly tasked with getting everything back on track. You'll develop your farmstead, meet new people, and help the mayor solve a series of local problems.
At its core, Ooblets is about collecting creatures called Ooblets. These cute monsters wander the world and can be fought in dance battles, similar to Pokemon encounters. Winning fights rewards the player with a seed that can be planted in their garden to grow a new Ooblet.
Outside of fighting, the Ooblets can be used to complete tasks for the mayor and help solve a plethora of local problems. The game also has a story that will take the player through various regions, including Port Forward's boardwalk arcades, the chilly Tippytops, and the swampy Nullwhere.
Ooblets' gameplay loop is familiar at first – till tiled fields, plant crops, water them each day, and harvest them when ready. But it's the twists the game provides that make the game so enjoyable.
Ooblets takes the idea of capturing monsters and turning them into your farm assistants to a whole new level. Instead of catching and taming a wild collection of creatures, you grow them from seed to serve your purposes. These cute critters even fight on your behalf in a decidedly Ooblet take on battles.
Quirky creature collection and farming sim Ooblets is exiting early access on PC this week via Steam and the Epic Games Store, two years after it initially launched in the latter. If you're interested in checking out Ooblets for yourself, it will launch on October 5.
Midnight Girl – October 6
Midnight Girl is a point-and-click adventure set in Paris in the sixties after a heist goes wrong. It's a mix of stealth, discovery, and puzzle-solving that draws inspiration from the likes of The Silent Age.
The game draws inspiration from the vibrant city of Paris, Belgian comics, and Sixties cinema, featuring a captivating story, mood, and style.
We follow the daring Monique, a tomboy in her late teens, who makes a living as a cat burglar in the heart of Paris. Unfortunately, one of her heists goes awry, and she lands in prison, where she meets a mysterious fellow inmate. Together, they escape and embark on a daring mission to steal a priceless diamond. Their journey takes them through various locations, including a Catholic monastery, a Parisian metro station, and the eerie Catacombs.
The game's main focus lies in its immersive storytelling and atmosphere, combining elements of stealth, discovery, and puzzle-solving to keep players engaged.
If you like to play point-and-click games and sixties movies, you should take a look at Midnight Girl on Steam.
Deadly Rain – October 6
Experience a heart-pumping adventure in Deadly Rain, a thrilling survival horror game that will test your limits. In this first-person shooter game, you will find yourself in a creepy village fighting against scary mutants while it's raining heavily. Your main objective is to stay alive by managing your resources and facing unexpected situations.
You will be alone in this deserted village, and things might get confusing as you struggle to figure out what's real. Your ammo will run out, and the mutants will be coming at you from all directions, leaving you with only three options: fight back, run away, or face certain death.
Deadly Rain is going to be released on Steam on October 6, and it will only be available for PCs.
Ghost at Dawn – October 6
Ghost at Dawn is a survival horror game developed by the developers of Life is Strange. You will enter the eerie Pines Hotel and hunt ghosts with limited resources as you try to uncover the truth behind a disappearance. You will also be fighting demons from without and within and exorcising corporeal threats and upgradable WWII-era firearms as you struggle to find a way out of the hotel or join its eternal residents.
You will embark on a spine-chilling adventure through an abandoned hotel as you unravel the mysteries surrounding Emi Kosuke's disappearance. This thrilling homage to 90's survival horror games will test your wits as you solve puzzles, confront supernatural entities, and manage your limited resources to maintain your sanity.
Ghost at Dawn will be released for PCs on October 6 via Steam.