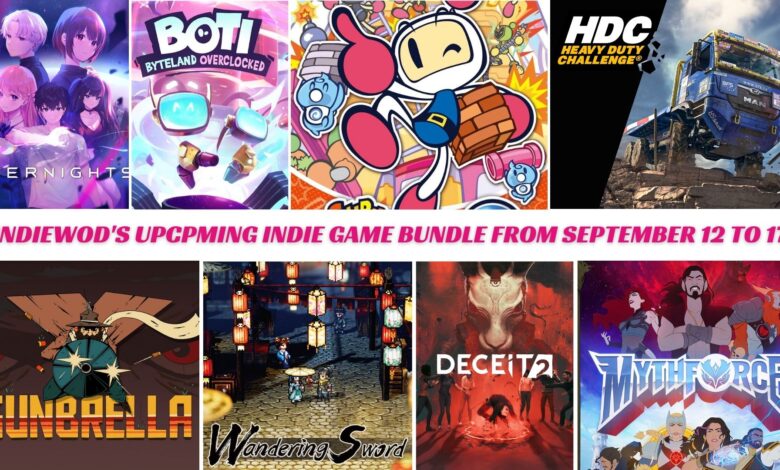 Get ready to level up your gaming experience with IndieWod's incredible indie game bundle from September 12 to 17! This week's lineup is packed with the hottest upcoming games, including a monster-slaying action Eternights, first-person fantasy roguelite MythForce, an off-road simulation game Heavy Duty Challenge, a social deduction horror experience, Deceit 2, and a return of a party battle game classic Super Bomberman R2. Keep your eyes peeled for these eight amazing indie games that you won't want to miss out on!
Remember, you can discover more indie games by staying tuned to IndieWod's indie game bundle.
Eternights – September 12
Eternights is a game that combines dating and action. It's set in a world after a big disaster, where players will face danger and exciting adventures. In the game, you can save the world and also find love.
Something has turned humans into monsters, and it's up to you to make the most of what's left. Scavenge for supplies, clear dungeons, go on dates and find love as you battle for survival in a world gone mad.
Developer Studio Sai has confirmed that its upcoming blend of dating simulator and monster-slaying action will launch September 12 on PlayStation 5, PlayStation 4, and PC via Steam and the Epic Games Store.
MythForce – September 12
Embark on an epic adventure through crypts and castles in this immersive game called MythForce. This first-person fantasy roguelite merges colorful swords and sorcery with gripping action combat.
You can scratch that Saturday morning cartoon itch with wholesome fun that brings MythForce. The game is easy to pick up but tough to master. With each defeat, you'll get a little bit stronger in your quest to take down the vampire lord Daedalus and his malevolent minions.
As well as you can play alone MythForce you can also play with up to four friends in co-op mode for a true hero's experience. Wield legendary weapons and potent magic as you slay hordes of enemies in a replayable dungeon filled with treasure, traps, and terrors. As you discover magical artifacts throughout your adventure, level up and acquire powerful upgrades.
Publisher Aspyr and developer Beamdog have announced that MythForce, the first-person fantasy roguelite inspired by 1980s cartoons, will leave Early Access and launch on September 12 for PS5, PS4 Pro, Xbox One, Xbox Series X/S, Switch, and PC via Steam and Epic Games Store. 
Gunbrella – September 13
Publisher Devolver Digital and developer doinksoft are launching Gunbrella on September 13 for PC on Steam and Switch. The gritty noir-punk action-adventure sees you assume the role of a rough lumberjack seeking revenge in an unfamiliar town, where your titular Gunbrella serves as a firearm, shield, and means of traversal.
The side-scrolling action is augmented by a unique visual style, featuring a grungy film grain aesthetic of browns and greys drenched in red. You'll encounter a sinister cabal of gangsters, cultists, and law enforcement as your investigation deepens, but it won't be easy; you'll have to dodge bullets as well as otherworldly creatures.
Super Bomberman R2 – September 13
The party battle games series Super Bomberman returns in a new installment with more content than ever. The game will feature offline multiplayer battles with family and friends as well as online matches that connect players from all over the world.
Super Bomberman R2 includes classic "Standard" mode, a team-based Grand Prix mode, and Battle 64, a 64-player battle royale. A new Castle mode will also be included, where players are divided into Attack and Castle sides to battle for treasure chests. A Stage Editor function will allow players to create their own Castle stages and share them with the community.
Super Bomberman R2 will be released for Switch, PS5, Xbox Series X/S, and PCs (via Steam) on September 13. A physical release will be available in North America on September 14. 
Deceit 2 – September 14
Deceit 2 is an online social deduction horror game. Outwit and outrun interdimensional demons while maintaining your sanity. You will try to escape demands for cooperation, but you cannot trust anybody.
A social deduction horror experience, Deceit 2, allows you to play the game with 6-9 players. 
Your goal is to escape the Ritual but you need to be careful because two members of your group have turned to evil and are hiding among you. They are helping to strengthen the Ritual so that they can offer you as a sacrifice to the mysterious Benefactors of the Game Master.
You need to work together to figure out who is on your side and who is not, but it won't be easy in this dangerous game where betrayal is a constant threat.
Deceit 2 will be released for PlayStation 5, PlayStation 4, and Microsoft Windows (on Steam) on September 14.
Heavy Duty Challenge: The Off-Road Truck Simulator
Heavy Duty Challenge: The Off-Road Truck Simulator is a vehicle simulation game that allows players to enjoy off-road driving across rough terrain. 
Heavy Duty Challenge features a variety of events and challenges that players can take part in to earn trophies and climb online leaderboards.
Beyond those events and challenges, you can find different trucks in the game, including officially-branded vehicles that have been recreated in the highest level of detail.
You can customize your car's cabin view and pitch-perfect physics for an immersive experience. I don't even need to mention that you can upgrade your vehicles with new parts to enhance performance.
Those interested in taking on this fun off-road racing game can check it out on Steam, PS Store, and Xbox Store.
Wandering Sword – September 15
Wandering Sword, a wuxia-inspired take on the recent trend of HD-2D RPGs like Octopath Traveler and Triangle Strategy, is set to release on September 15 for PC via Steam. 
This role-playing game, created by The Swordman Studio and published by Spiral Up Games, has a lot of different characters you can choose to join you on your adventures. There's also a combat system that lets you switch between taking turns and fighting in real time whenever you want.
You can embark on an epic adventure through ancient China's vast open world portrayed in striking pixel art and explore bustling towns, scenic mountains, picturesque rivers, and treacherous terrains while mastering a wide array of martial arts moves and weaponry.
You can also build relationships with NPCs and recruit up to 14 unique martial artists, each bringing their own skills and stories to the table. Unravel hundreds of martial arts techniques and weapons, cultivate your energy through meridian points, and achieve true mastery of the martial art form known as "wushu."
Boti: Byteland Overclocked – September 15
Boti: Byteland Overclocked is the debut title from Polish developer Purple Ray Studio, and it brings back old-school 3D platforming fun in a futuristic computer world.
Players take on the role of brave and adorable data bot Boti, who's tasked with cleaning Byteland's cyber-landscape of bugs and viruses. The game can be played single-player or with a friend in a seamless drop-in co-op.
The action is powered by classic platformer moves, including double jump, dash, hover, and glide. The world is loaded with variety, with magnet-based brain teasers and interactive melody-making contraptions.
Boti: Byteland Overclocked will be released on September 15 on PC via Steam and Epic Games.