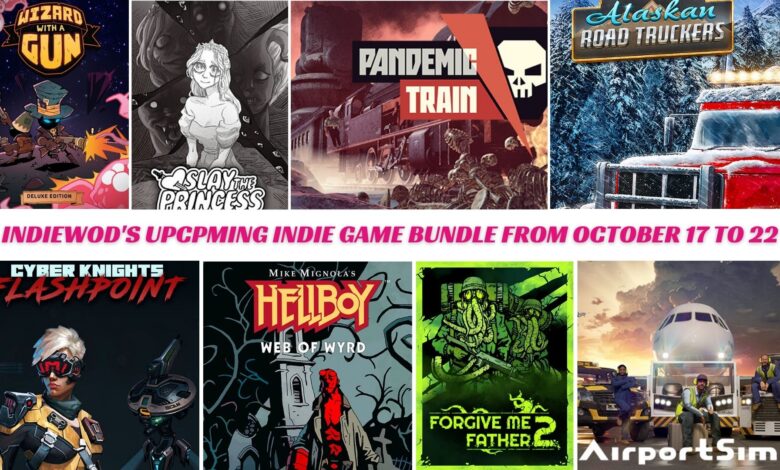 Get ready to level up your gaming experience with IndieWod's incredible indie game bundle from October 17 to 22! This week's lineup is packed with the hottest upcoming games, including a sandbox survival, Wizard With A Gun; a role-playing adventure, Cyber Knights: Flashpoint; a post-apocalyptic strategy roguelike, Pandemic Train; two simulation games, Alaskan Road Truckers and AirportSim; and an action-packed first-person shooter sequel, Forgive Me Father 2. Keep your eyes peeled for these eight amazing indie games that you won't want to miss out on!
Remember, you can discover more indie games by staying tuned to IndieWod's indie game bundle.
Wizard With A Gun – October 17
The latest entry in Galvanic Games' Gunmancer Diary series, Wizard With A Gun, launched on October 17 for PC (via Steam), PS5, and Xbox Series X/S consoles. 
This sandbox survival game is set in The Shatter, the crumbling remnants of a world destroyed by chaos and inhabited by dangerous creatures and all manner of arcane mysteries.
Wizard with a Gun is a game where you team up with your friends or play alone to explore a magical wilderness filled with dangerous creatures and mysteries. You get to create your own wizard and choose how you want to outfit them for your adventure.
You can also collect resources, make weapons and bullets, and decorate your home. But be careful; as you gain more magic abilities, you might accidentally burn down your own tower home!
Cyber Knights: Flashpoint – October 17
In this squad tactics heist RPG from the Trese Brothers, you assemble a team of underworld mercenaries to take on high-stakes heists for the megacorporations, syndicates, and street gangs of 2231. 
You will build a reputation among these faction power players as you outsmart security and use creative stealth and hacking to accomplish the heists. The world will unfold through consequential story choices and crew member development, shaped by the crew you choose to bring with you.
Missions in this game are not just about shooting and fighting. You have different choices, such as using stealth and hacking, to decide when to attack or try to complete the mission without being detected by the enemy. You can also build your base, manage contacts, customize and improve your squad, and earn their loyalty to become more powerful.
Cyber Knights: Flashpoint was released on October 17 and is available to add to your library on Steam.
Pandemic Train – October 18
In Pandemic Train, you get to lead the crew on a steam engine train traveling through a post-apocalyptic world destroyed by a deadly plague and war. Your main goal is to keep your team alive long enough to find a cure for the virus that's threatening humanity. 
This is a survival game that combines elements of strategy and roguelike gameplay. In this game, you'll explore the wastelands, face dangerous bandits, and collect resources to keep your team going. It's a race against time to save humanity.
Pandemic Train will be released for PCs on October 18 on Steam.
Hellboy Web of Wyrd – October 18
Publisher Good Shepherd Entertainment and developer Upstream Arcade, Hellboy Web of Wyrd will be launched on October 18.
In the hands of Upstream Arcade, Hellboy Web of Wyrd is more than just a half-demon with a squid-like tail and a boulder for a fist; he's a brawler through and through, able to pummel enemies with his powerful fists or use his gun to keep distant foes at bay.
Like many roguelites, combat is fast and twitchy, but with that bold Mike Mignola art style on display, there's aplenty as to where an enemy will land their attack.
Go toe-to-toe (or hoof-to-hoof) with a menagerie of nightmarish creatures and homunculi in the realms of the Wyrd as Hellboy seeks answers behind the mystery of The Butterfly House, a strange occult residence built upon ley energies that opens portals into perplexing dimensions. Chain together hard-hitting melee and ranged attacks to survive as you explore a sprawling original story inspired by the comics, voiced by illustrious Hellboy actor Lance Reddick.
Alaskan Road Truckers – October 18
Road Studio has revealed the Alaskan Road Truckers, a trucker simulator that puts you behind the wheel to deliver cargo across the state of Alaska with dynamic weather and treacherous road conditions. 
You'll also have to manage your character's well-being while driving, making sure your temperature, hunger, and energy levels are at their best.
If you want to experience life in the definitive trucker simulator, Alaskan Road Truckers will be available on Steam on October 18.
AirportSim – October 19
Flight simulator fans will finally get their chance to step into the shoes of a ground handler on October 19 when AirportSim arrives. The game focuses on bringing realistic aircraft and airfield models to the premium indie market, while partnerships with airlines ensure that planes can be flown in and out as they should. 
A detailed weather system and passenger flows add an extra layer of challenge to the daily management of each airport.
AirportSim is an amazing game that lets you experience the thrill of managing an airport. With its stunning graphics and realistic operations, you can take on a variety of tasks, either solo or with friends. You'll get to use licensed planes and vehicles and work in real airports with changing weather conditions. 
Forgive Me Father 2 – October 19
Fulqrum Publishing recently announced that a new version of a popular indie game called Forgive Me Father is on its way to computers. The sequel, called Forgive Me Father 2, is said to be even more exciting and has even better graphics than the first game. 
The game is set to be released in a special version called "Early Access" on October 19, 2023, and will be available on various video game stores, including Steam, GOG, and the Epic Games Store. If you want to try it out before then, you can play a free demo on Steam.
In this action-packed first-person shooter game, you will enter a world of dark nightmares and fight against enemies who have been taken over by evil forces. As you progress, you will unlock new and powerful weapons that will help you defeat even stronger enemies.
Discover more about Forgive Me Father on Lawod.
Slay the Princess – October 20
One of the big indie games that will be released this month is Slay the Princess from Black Tabby Games. It's a cheeky horror tragicomedy with a Lovecraftian twist, taking cues from The Stanley Parable and Call of Cthulhu. The Princess takes on a variety of forms depending on who you trust and what you believe, making this a game that encourages repeated playthroughs to explore all its possibilities.
The story is told with hand-penciled monochromatic art from Ignatz award winner Abby Howard, while the game's narrator gives you plenty of reason to distrust and doubt him or her. It's a twist on the damsel-in-distress archetype that will leave you asking just how twisted this world is.