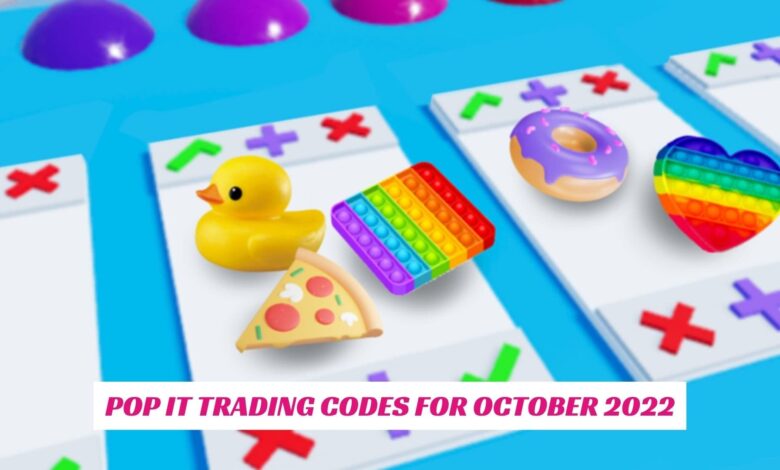 If you want to enjoy some free items and rewards in Pop It Trading, then you need to start using the active Pop It Trading codes. They are completely free and offer you various items that you can enjoy in your Roblox game!
This is why we wanted to compile all the Pop It Trading codes for current month for you! Any player can use the following codes to get their free rewards at any time. The best part about our list is that all these dozens of codes are working!
Active Pop It Trading Codes
knockknock – Free Doors item
pepto – A bottle of Pepto-Bismal
lasagna – Get a lasagna ball
****** – Free Rainbow Friends item
throne – Free Toilet
1337 – Gaming item (camera, keyboard, etc)
m0dn4r – Random item
Juego – Xbox Controller
baila – TikTok Phone
fotito – Instagram Camera
pájaro – Twitter Item
100k – YouTuber Item (Play Button)
gub – Magnifying Glass
lightemup – Paintball Gun
wth – Monster Eye
pineapple – Pineapple
portal – Portal
r41nb0w – Rainbow Plunger
farmer – Magic Seeds
code – Scary Poppy toy
upupup – Ladder
90sec – Floppa!
noclip – Spooky Backrooms item (when you hold it for too long, you can enter the Backrooms experience)
trippy – Optical Illusion item
naughtyornice – Tommeh the Tank Engine
kitty – Cat!
popit! – Free Pop It item
stuffi – FNAF Toy
armor? – Watermelon Armor
sugar – Lollipop
cupid – Valentine's Related Item (Flowers, Boombox, etc)
no – Slenderman note
tako – Octopus plushie
鞭炮 – Firecrackers
Tony – Tony the Tiger Plushie
Loot – Loot box
buff – Weights
2022 – Sparkler item
ice – Diamond
chance – Rock Pappers Scissors
juaniday2021 – Candy Cane
sus – Among Us themed item
quidditch – A Fire Extinguisher you can ride!
spooky21 – Some Halloween item!
crystal – Random colorful Crystal
eeek – Bug!
squid – Squid Game character
gummy – Colorful gummy!
How to Redeem Pop It Trading Codes?
The best part about redeeming Pop It Trading codes is that it is pretty straightforward. Just run the game and directly walk towards the leaderboard (walk straight after you spawn). Stand on the YouTube code button and then type in the codes you would like to redeem. That is all!