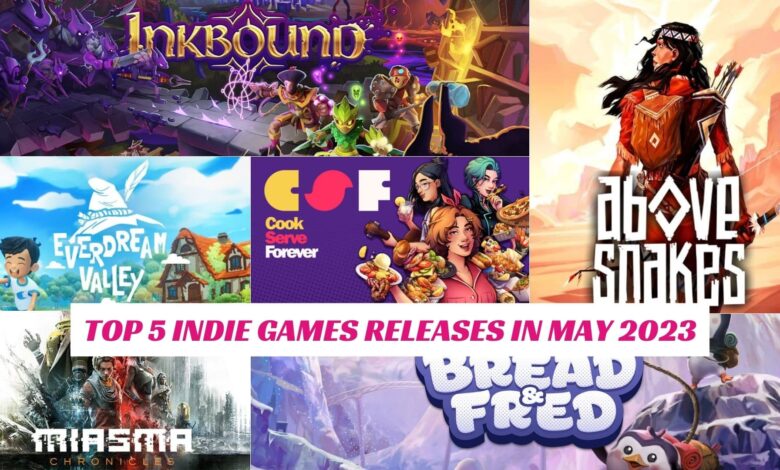 Welcome to the fascinating realm of indie gaming, where boundless creativity intertwines with a spirit of innovation. Indie developers continue to captivate players with their distinct visions and immersive gameplay experiences within this dynamic landscape. As we embark on this exploration, prepare to be enthralled by a thoughtfully curated selection of the top six indie game releases:
Cook Serve Forever – May 8
Inkbound – May 22
Miasma Chronicles – May 23
Bread & Fred – May 23
Above Snakes – May 25
Everdream Valley – May 30
From visually stunning odysseys to intellectually stimulating puzzles and emotionally resonant narratives, these games exemplify their independent creators' remarkable talent and ingenuity. Embark on this captivating journey as we delve into the diverse and enchanting worlds that await you in these extraordinary indie masterpieces.
Cook Serve Forever – May 8, 2023
Cook Serve Forever is a culinary adventure game from Vertigo Gaming, makers of the popular cooking simulation series Cook, Serve, Delicious! The story centers around Nori Kaga, a home-taught chef who dreams of becoming like her role model, the culinary queen, Chef Rhubarb.
The game takes place in a solarpunk city named Helianthus and features hundreds of ingredients, an exciting fully-voiced story, tantalizing sidequests, gorgeous artwork, and gameplay that simulates the rhythm and tactility of cooking.
The game will launch in Early Access on PC on May 2023 and will hit all major consoles in the future. The developers will also release new content, perks, and bug fixes throughout the year. A new local coop mode will arrive in the summer, and a new side mode called Cooking School is scheduled for the fall.
Inkbound – May 22, 2023
Inkbound is a co-op roguelike infused with creative tactical RPG elements. The game is a follow-up to Monster Train (2020) and will be coming to Steam Early Access on May 22, 2023. Inkbound blends deckbuilding, turn-based tactics, and co-op into an imaginative world populated with characters and lore.
In Inkbound, a dark force is starting to unbind the stories written in the worlds of Atheneum, and it's up to you and your friends to protect them. Explore the magical Atheneum and the infinite worlds contained within to become the fabled Inkbound, or break free from your station to unravel the real story behind your creation.
The game will take you through procedurally generated storybook worlds as you battle monsters set on unraveling the nature of reality itself. You'll be able to dive in solo or party up with up to four players via online co-op in hybrid real-time/turn-based encounters.
Miasma Chronicles – May 23, 2023
Miasma Chronicles is the latest game from The Bearded Ladies and 505 Games set for release on PS5, Xbox Series X|S, and PC (Steam) on May 23, 2023. The game centers on a pair of heroes separated from their mother by the mysterious force known as the Miasma. They are a young boy named Elvis and his robotic older brother Diggs. The two travel across a post-apocalyptic America that has been transformed by the savage power of Miasma into an unrecognizable world.
In order to survive the dangers of this world, they must explore, gather loot and upgrade their weapons and abilities as they seek out answers that could change the course of human history. The only weapon that can give them an edge is a mysterious glove that lets them control the Miasma.
Bread & Fred – May 23, 2023
Bread & Fred is the latest co-op platformer from Sand Castles Studio and publisher Apogee Entertainment. This adorable-looking game is launching on May 23, 2023, for PC, and you can try it out before it's released by downloading a demo from Steam.
In Bread & Fred, you'll play as two penguins tied together by rope as they try to scale dangerous mountains. Each step up the mountain becomes increasingly difficult and introduces new obstacles like wind, ice, and moving platforms. As a cooperative platformer, Bread & Fred requires both penguins to communicate to make the best moves. One false move across a slippery slope or a moving platform can send both tumbling down steep heights.
Above Snakes – May 23, 2023
Above Snakes is an isometric Wild West-inspired RPG that allows players to explore a world they create. It is constructed via isometric tiles and features randomized attributes, elements, and special abilities that will challenge players to craft the perfect environment for survival and adventure.
Above Snakes follows Dirt, a cowboy seeking revenge against the gang that murdered his wife. He's a gruff character who doesn't look like much, but he's got a hunger for blood and a thirst for revenge that sets him apart from his fellow cowboys.
Above Snakes was developed by German indie developer Tobias Schnackenberg, who has been working on video games since childhood. He launched a Kickstarter campaign for the project in January 2022 and is now working on it full-time. Above Snakes is set to release on May 25, 2023, via Steam.
Everdream Valley – May 30, 2023
Everdream Valley is an ambitious, cozy farming adventure that will be released on PlayStation 5, PlayStation 4, Xbox One, and Microsoft Windows on Steam on May 30, 2023.
Mooneaters, Untold Tales, and VARSAV Game Studios are behind the title, which will see you restore your special corner of the farm during the day, then take part in magical dreams that let you embody various farmland creatures to complete special challenges.
It's summertime on your grandparents' quaint farm, and your imagination is free to run wild. Protect your crops, keep your animals happy, and gather the resources to repair and expand your homestead. It's about recapturing the days of childhood adventure and endless imagination when things like work, responsibilities, or relationships were the last thing on your mind.
You can spend your time in Everdream Valley doing a range of activities, such as camping, bug catching, fishing, treasure hunting, and photography. You can even adopt a dog or cat as a companion, which will help you with herding, tracking, and other farming tasks.