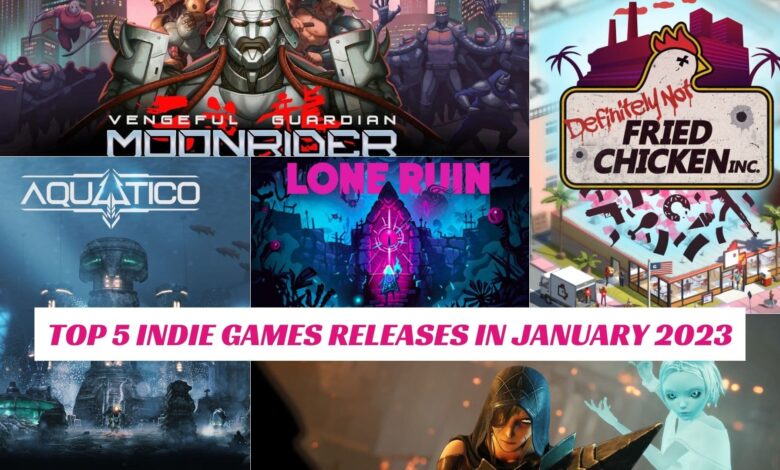 January 2023 is going to be a great month for indie game fans. This month, great games like Aquatico, Superfuse, Lone Ruin, Definitely Not Fried Chicken, and Vengeful Guardian: Moonrider are coming out.
There are a lot of exciting upcoming indie game releases for PC gamers to look forward to in 2023. These games cover various genres, including action, adventure, role-playing, horror, and more. Here is our list of the Top 5 Indie Game Releases in the January 2023 selection.
Aquatico – January 12
Developed by Digital Reef Games and OverSeer Games, Aquatico is an underwater city-builder game with a unique focus. The game is based on building a city beneath the waves, which has different depths, temperatures, and biomes in different areas. Players will need to survive and protect the sea's creatures and ecosystem.
A demo of Aquatico is available to play on Steam. A public beta test will begin soon, and the game is expected to fully release on January 12, 2023, only for PCs on Steam and Epic Games.
Lone Ruin – January 12
Lone Ruin is a roguelike game that takes place in an abandoned city. You play as a master who aims to restore a ruined magic city. But the city's power has been corrupted, and people have gone insane. You need time, resources, and a mysterious ancient power to cleanse it.
If you're a fan of games with a dark fantasy feel, you'll like Lone Ruin, set in a decaying fantasy realm where you'll need to slay monsters and explore surroundings. The game is going to be released on January 12, 2023, for the Nintendo Switch and PCs (on Steam).
Vengeful Guardian: Moonrider – January 12
Vengeful Guardian: Moonrider is a side-scrolling action game that will pump your blood. It takes a page from the playbook of classic video games, featuring fast-paced platforming, futuristic weaponry, and an epic battle against the totalitarian regime.
Vengeful Guardian: Moonrider has been delayed from its original fall 2022 release date, which is now slated for January 12, 2023. The game is launching on PlayStation (PS4 and PS5), PCs on Steam, and Nintendo Switch. Until that time, you can check out a playable demo on Steam.
Definitely Not Fried Chicken – January 18
If you're looking for a gaming experience that's a little more personal and a bit more immersive, Definitely Not Fried Chicken might be the game you should check out. It is a business management sim with a twist! You will try to grow your drug trade through legitimate fronts by managing both sides of the business. 
The best part about Definitely Not Fried Chicken is that you won't have to wait long to get your hands on it. The game's upcoming launch date is January 18, 2023, and it'll be available only for PCs on Steam.
Superfuse – January 31
Superfuse is an action-slash role-playing game developed by Stitch Heads Entertainment. It is set in a universe where the balance between humans and nature has been damaged. 
The game features a story-driven campaign where players can choose from two different playable characters. Each of these characters comes with their own skills and powers. They can also be combined to create the perfect team.
Superfuse will also have a multiplayer mode so that you can take on challenges with up to three other players.
Superfuse will be released on PC on January 31, 2023.