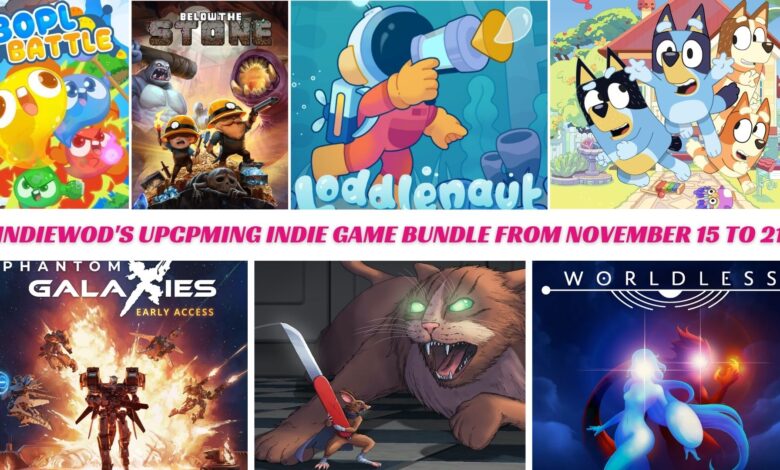 Get ready to level up your gaming experience with IndieWod's incredible indie game bundle from November 15 to November 21! This week's lineup is packed with the hottest upcoming games, including a sci-fi exploration with shooting and role-playing elements, Phantom Galaxies; a casual game, Loddlenaut; an action-packed platformer game, Bopl Battle; a turn-based adventure featuring anthropomorphic rodents, Small Saga; psychological horror game, Wordless; and a Metroidvania-style game, Below the Stone. Keep your eyes peeled for these seven amazing indie games that you won't want to miss out on!
Remember, you can discover more indie games by staying tuned to IndieWod's indie game bundle.
Phantom Galaxies – November 15, 2023
Phantom Galaxies (released on November 15, 2023 on Steam and Epic Games), by Animoca Brands and Blowfish Studios, promises a sci-fi extravaganza with space exploration, interstellar colonization, and intense starship battles.
Players get to pilot customizable mech suits, each type offering unique skills and playstyles, from stealthy lancers to robust busters. This game also integrates blockchain technology, offering a novel gaming experience with a variety of modes like PvP, PvE raids, and crafting. Access requires setting up a compatible wallet, as detailed on their website.
Loddlenaut – November 16, 2023
Loddlenaut (launching on Steam on November 16, 2023) from Moon Lagoon and Secret Mode, is a serene ocean clean-up indie game. Players become interstellar custodians, tasked with restoring the ocean planet GUP-14. This project, starting as an NYU thesis, has evolved into a full-fledged casual PC game. It's a journey through underwater ecosystems, reviving native life, and cleaning up after a neglectful megacorporation.
Bopl Battle – November 16, 2023
Bopl Battle, from the creators of Braid and World of Goo, releases on Steam on November 16. This action-packed platformer lets players battle monsters and traverse a beautifully crafted landscape. It's an innovative addition to the indie scene.
Small Saga – November 16, 2023
Also launching on Steam on November 16 is Small Saga by Jeremy Noghani, a turn-based adventure featuring anthropomorphic rodents on a quest for revenge. The game boasts detailed sprite art and engaging music, with cleverly renamed items adding charm to the rodent world.
Below the Stone – November 17, 2023
On November 17, Below the Stone joins the indie lineup and you can add it to your game library on Steam, Epic Games, and Gog. This Metroidvania-style game offers hand-drawn graphics and intricate lore, following the footsteps of successful predecessors like Fez.
Below the Stone is a captivating pixel-art roguelike game, inviting players into the depths of a mysterious world. As a dwarf on a quest for discovery, each descent promises new and unique adventures. The game is designed to reward the most tenacious players, who are willing to risk their lives in pursuit of the secrets hidden beneath the stone. This game promises an immersive experience filled with challenges and discoveries, perfect for players who enjoy exploration and the thrill of uncovering hidden worlds​​.
Bluey: The Videogame – November 17, 2023
Bluey: The Videogame, set for release on November 17, is based on the beloved Australian family show. Developed by Artax Games, it allows up to four players to explore the world of Bluey and Bingo, featuring minigames, unlockable content, and the original show's voice actors.
Bluey: The Videogame invites players into a charming world filled with fun and adventure. In this game, players can immerse themselves in a new story spanning four interactive adventures. Fans of the popular TV show will recognize iconic locations to explore and can even engage in their favorite games featured in the series. Additionally, the game offers a local multiplayer mode, perfect for family and friends to join in the fun. This game promises to be a delightful experience for fans of the show and those new to Bluey's world alike​​.
Worldless – November 21, 2023
Finally, Worldless is set to release on November 21. The game is a distinctive 2D platformer that offers players an immersive and unique gaming experience. With its stylized graphics and an innovative active turn-based combat system, the game stands out in its genre. It features a compelling, interpretative narrative that encourages players to embark on a journey of self-growth and understanding within an abstract, newly born universe.
This game is designed not just to entertain, but also to challenge players to explore and push the limits of their nature, making it a fascinating blend of artistic storytelling and engaging gameplay​​.