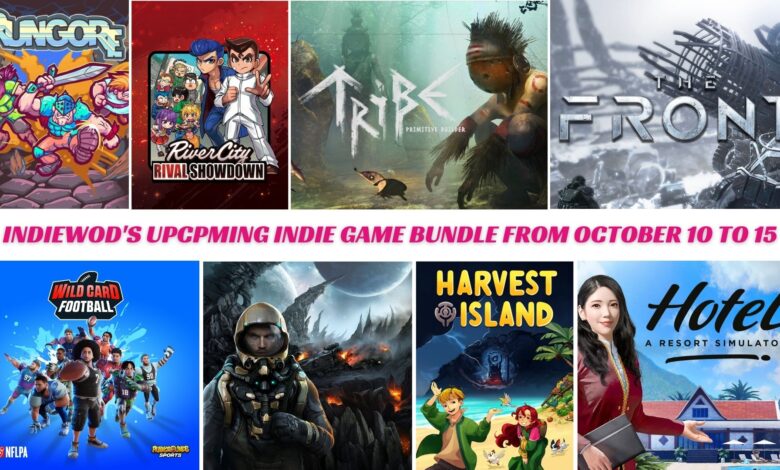 Get ready to level up your gaming experience with IndieWod's incredible indie game bundle from October 10 to 15! This week's lineup is packed with the hottest upcoming games, including an NFL-themed sports game, Wild Card Football; a casual farming simulator with a horror set, Harvest Island; a sci-fi point-and-click adventure, Monolith; a rebuilt of the fan-favorite beat 'em up, River City: Rival Showdown; and a hotel simulation game, Hotel: A Resort Simulator. Keep your eyes peeled for these eight amazing indie games that you won't want to miss out on!
Remember, you can discover more indie games by staying tuned to IndieWod's indie game bundle.
Wild Card Football – October 10
Following in the footsteps of its NBA Playgrounds series, Saber Interactive is taking a different approach to NFL video games with Wild Card Football. The game, which launched on October 10, is an arcade-facing take on 7-on-7 pigskin action with over-the-top flair and energy.
Wild Card Football aims to challenge the NFL gaming market dominated by EA Sports' annualized Madden NFL franchise. It will feature an authentic roster of hundreds of actual NFL players, including Colin Kaepernick, Jalen Hurts, Patrick Mahomes, Justin Jefferson, T.J. Watt, Joey Bosa, Ja'Marr Chase and Aaron Donald.
The game allows players to assemble their dream team and customize logos, uniforms, and playbooks. It will also have a variety of modes, from season play to online multiplayer with crossplay support. 
Harvest Island – October 10
If you are looking for a game that can provide an immersive and relaxing experience, then Harvest Island is the game for you. It's a semi-farming simulator that draws inspiration from Stardew Valley but is set in a horror setting. It also has a story-driven narrative with character development.
Harvest Island is a unique blend of storytelling, horror, and farming simulation, where you grow crops, collect tidepool critters, and fish for the gods. The game offers an immersive experience where you can explore hidden places, such as a cave behind a waterfall, befriend wild animals that hide in the forest, or even discover a vending machine randomly placed in a dark underground room along the beach.
Developed by Yobob Games, Harvest Island was released on October 10 for Windows PCs on Epic Games Store and on Steam.
Monolith – October 11
Monolith is a classical sci-fi point-and-click adventure indie game where you play as a survivor of the space explorer Tessa Carter. 
In the story of the game, your spaceship crashed on a barren planet, and you don't remember what was your mission goal. An unusual friend, a small analysis robot called C.O.R.E., is accompanying you on your journey. You will learn more about yourself than this foreign environment you desperately try to escape.
Besides this exciting storyline, the game includes 50 hand-drawn locations full of atmosphere and detail, three-dimensional characters, and motion capture animations, and it offers 7 to 9 hours of playtime.
Monolith will be released for PCs on October 11 on Steam.
River City: Rival Showdown – October 11
River City Ransom is rebuilt with River City: Rival Showdown on Steam. Publisher Arc System Works revives this fan-favorite beat 'em up for modern consoles. This version of River City: Rival Showdown uses current tech to improve graphics and gameplay, and it allows you to play solo or with a friend in a local co-op. 
In River City: Rival Showdown, you'll fight a variety of enemies, including ranged attacks, environmental hazards, and bosses with unique themes. Misako, Kyoko, Kunio, Riki, and more of the gang return for more hard-hitting combat. The game has a light tone, heavy on the jokes, and references other WayForward games as well as classic beat 'em ups from the genre's golden age.
Check out another River City game, River City Girls on Lawod.
The Front – October 11
You take on the role of a resistance fighter in The Front, a survival, open-world crafting shooter indie game that sends you back in time to prevent the rise of a tyrannical empire. Your mission requires you to collect resources, craft tech, build shelters, and battle monsters to succeed.
In the world of The Front, a post-apocalyptic wasteland filled with mutants and hostile groups awaits players. As they navigate this war-torn terrain, they will face off against tyrannical imperial forces, exiles, thugs, and rebels in a battle of epic proportions that will ultimately determine the fate of humanity.
Players can team up with their friends to explore ruins and enemy territories, craft weapons and equipment, construct bases, and employ tower defense-style traps to defend them. They can also upgrade their technology, pilot tanks, and helicopters, and battle the elements, all while facing off against formidable foes.
Developed and published by Samar Studio, The Front will be available to purchase from Epic Games and Steam on October 11. The game will be released only for Windows-operated PCs.
Tribe: Primitive Builder – October 12
Tribe: Primitive Builder is a thrilling adventure game that takes place on a mysterious island. You find yourself stranded on the shore of an ancient tribe and your task is to help them decipher a message from the gods that could save their tribe. The game is developed by Space Boat Studios and Polyslash, and it offers an exciting open-world experience where you must use your survival skills to explore the island, interact with the tribe, and solve puzzles to uncover the secrets of the island.
You'll be tasked with building a new village for the tribe to call home, and you'll have to hunt, gather food, build/craft tools, explore, and help them grow into a civilized society. The game's world will be a dangerous place to live in, and you'll have to watch out for dangerous volcanoes, mysterious characters, and other threats as you work to help the tribe survive.
Tribe: Primitive Builder is a mix between a city-builder and a survival title, but it looks like a good time. If you like to play city-builder simulation games with a little adventure, you may like Tribe: Primitive Builder, which will be released for PCs on Steam on October 12.
Rungore – October 12
If you have ever wished to play your favorite card game without following any arbitrary rules like taking turns or using a limited amount of resources, then I have some good news for you. There is a way to make it possible with Rungore.
Rungore is a thrilling indie game that draws inspiration from two popular games: Slay The Spire and Loop Hero. It skillfully combines the best features of these games to create a unique and captivating gaming experience. With its seamless integration of elements from both games, Rungore promises to keep you engaged and entertained for hours on end.
The game will be released only for Microsoft Windows PCs on Steam On October 12.
Hotel: A Resort Simulator – October 12
Hotel: A Resort Simulator could be the first hotel simulation game to take you through idyllic holidays. You can choose the perfect location, design and build all facilities required (reception, restaurants, suites…), and decorate to build your dream hotel. 
You can pick up guests from the harbor and make sure they enjoy their stay by providing exceptional entertainment, catering to their needs, maximizing profits, and gaining the best online reviews. Become the great resort tycoon of your dreams!
Developed by RingZero Game Studio and published by Bigben Interactive, Hotel Life: A Resort Simulator will be released on October 12 only for Windows PCs on Steam.