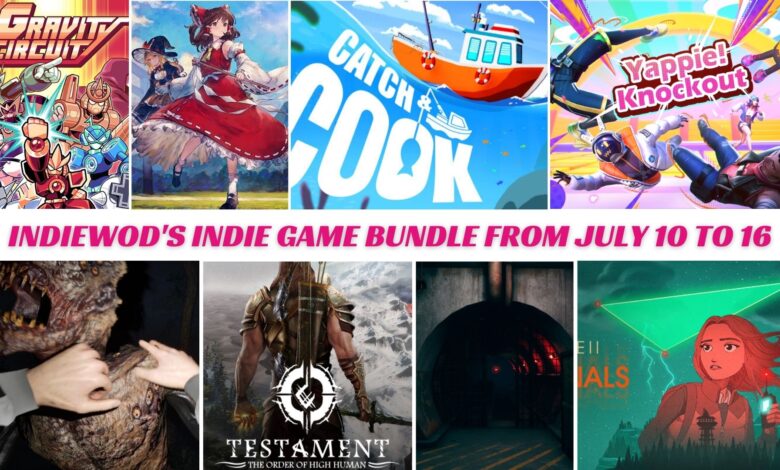 While big-name developers have their eye on the summer blockbuster prize, there's no reason to overlook these fantastic indie games.
Here are some of the best upcoming indie games to look out for this week of July 10th to 16th. You can discover more indie games by staying tuned to IndieWod's indie game bundle.
Yappie! Knockout
Yappie! Knockout is a multiplayer game where up to 24 players can compete in a series of mini-games in a colorful, chaotic world filled with traps.
The aim is to be the last player standing after completing each round and avoiding elimination by falling off the platform's edge, being knocked out by obstacles, or failing to complete a mini-game within the given time limit.
Yappie! Knockout is currently available on Steam for free to play.
Backrooms: Realm of Shadows
Backrooms: Realm of Shadows is a horror game that takes place in an endless maze of rooms and hallways known as the Backrooms. 
The game is based on a popular internet creepypasta, in which people who are lost in the maze find themselves trapped for days, weeks, or even years before finally escaping.
The Backrooms are a surreal and unsettling place, filled with flickering lights, strange noises, and mysterious creatures that seem to be watching you from the shadows.
The game is also randomly generated, which means that you could spend hours wandering around without ever seeing the exit, or you could escape within minutes.
Backrooms: Realm of Shadows will be released on July 11th on Steam.
OXENFREE II: Lost Signals
After the original OXENFREE received a cult following for its unique combination of mystery horror and narrative choice, fans have been eagerly anticipating the sequel. 
The sequel to 2016's critical darling Oxenfree is set to take the player back to their hometown of Camena for a supernatural investigation. The game will follow Riley Poverly as she returns home to investigate strange electromagnetic frequencies causing electronic equipment to glitch and even fail completely, which could be linked to nearby Edwards Island.
Like the first title, OXENFREE II will feature a naturalistic dialogue system that allows players to shape conversations and outcomes through their choices. The team at Night School Studio has also added a walkie-talkie conversation system to give the player the ability to chat with locals as they explore.
OXENFREE II is scheduled to launch on July 12th.
Gravity Circuit
Gravity Circuit is a fast-paced adventure platformer that will test the limits of your platforming skills and inspire dedicated speedrunners to compete for the best times.
You are following Kai, a lone operative war hero with the mysterious powers of the Gravity Circuit, on his quest to stop the Virus Army uprising across a 12-level campaign.
In the game, you have the ability to execute powerful punches that can knock enemies back or grab them for close combat. As you progress through each level, you can unlock new abilities to help you succeed.
Gravity Circuit will be available on Steam on July 13th. There is also a free demo version of the game where you can try it before purchase.
Touhou: New World
Developed by Ankake Spa, the creators of 2016's Touhou: Scarlet Curiosity, Touhou: New World merges the stage-filling bullet hell genre synonymous with the Touhou Project with exhilarating action RPG battles. The game is scheduled to release this summer on PC via Steam and Switch, with a PlayStation version arriving at a later date.
Touhou: New World takes players back to Gensokyo, a supernatural world where life is usually uneventful. But when an outsider breaches the mystical barrier, chaos ensues. Reimu and Marisa must uncover the source of the madness while battling mystical creatures.
Testament: The Order of High Human
In a post-apocalyptic fantasy setting, the first-person action-adventure game Testament combines Metroidvania and RPG features. It provides mixed combat with a variety of sword, spell, and bow combinations as well as plenty of platforming and puzzles.
Testament offers a thrilling roguelike experience with drill-based platforming and colorful combat. Its diverse spells and combos provide a visceral gameplay, while its rich world is full of content and collectibles to discover.
Testament: The Order of High Human is going to be released on July 13th on Steam and Epic Games.
Surrounded
Surrounded is a cooperative horror game that'll put your group's wits to the test. The up-to-six-player title tackles unsettling paranormal mysteries and evil curses.
If you're a fan of indie games that combine survival and roguelike elements, this is a game for you. 
The game features a massive open-world map with forests, buildings, and more to explore. The game's mystery can also be solved in many different ways, making it replayable several times.
Surrounded also features a unique backstory about a remote lab researching black matter that went awry 30 years ago, infecting the surrounding forest and village.
The game will be released as Early Access on Steam on July 15th.
Catch & Cook: Fishing Adventure
In the fishing adventure game Catch & Cook, in addition to being a fisherman, you are also the owner of a restaurant. You can go fishing in the ocean, then prepare the fish in your own restaurant.
If you enjoy fishing, then you might find Catch & Cook: Fishing Adventure to be a relaxing way to spend an hour or two. It features a variety of different fish species, recipes, and gameplay mechanics that make it an enjoyable game to pick up and play for a short time.
The game follows a similar formula to Ultimate Fishing Simulator, with the player able to capture new fish and sell them for extra cash or choose to release them for an XP boost. It's a great mechanic that allows the player to experience a little bit of both elements that make fishing so rewarding in real life.
Plus, there are seven locations to explore, with each offering multiple spots for the player to fish in. To unlock these locations, the player must complete a series of Quests that act as challenges, each with a set level requirement.