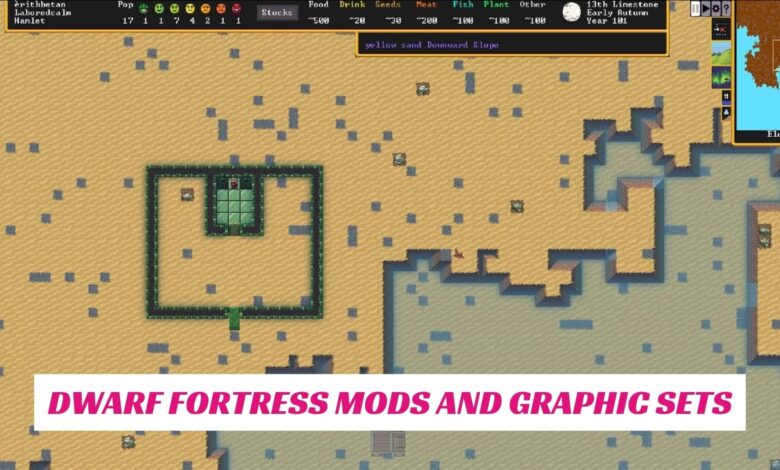 Dwarf Fortress is a city-building simulation game. It requires great skill to build a town and fend off enemies and invasions. It has three game modes. The first mode is called Fortress, which simulates a dwarf city. The second is Legends, which lets you read the history of your world. The third is Adventurer, which allows you to play as a roguelike adventurer. 
The game is designed to simulate the life of a dwarven city. It features intricately interlocking building blocks. You can order material, store drinks in large stockpiles, and order a plump helmet plantation.
There are two main types of graphics sets. They are usually made for specific tilesets. Changing the graphics set will drastically change how the creatures look on the screen.
Common Dwarf Fortress Graphic Sets and Sound Packs
Dwarf Fortress graphics sets are a great way to improve your experience with the game. You can change the color of your Fortress, add new tilesets, and even improve the UI. Adding mods to your world is simple and will be available from the get-go with the release of Dwarf Fortress on Steam.
Many of the most important Dwarf Fortress mods are already available in the Steam Workshop. Some of them are worth checking out, such as the Better Instruments mod, which adds a bunch of new instruments to the game. It also adds new, more interesting sounds.
The Obsidian Graphics Set is a medieval-style set that has dark textures for floors and walls. It is a great choice for people who prefer to play Dwarf Fortress Classic.
The Lazy Newb Pack is another option. This is a starter pack that contains all of the tools and community-made graphics sets. DFHack, a utility, is included. It helps players build fortresses from blueprint files.
The Curses of Balin is another graphical overhaul that adds stairs and walls to the Dwarf Fortress world. It also brings in new GUI upgrades.
Another popular Dwarf Fortress mod is Reduced Z-Level Fog. It thins the biome fog. This makes the game more realistic.
Some of the other notable Dwarf Fortress mods are Deadly Caverns, which adds more dangerous creatures to the game. This also increases the difficulty of Dwarf Fortress.
Another cool Dwarf Fortress mod is See-Through Smoothing Designations, which makes the designation marker more visible. This is a great mod because it helps solve a common issue with Dwarf Fortress.
There are some other famous graphics sets for Dwarf Fortress also included on the game's community page. Here are some of these packs:
GemSet
Spacefox Graphic Set
CLA Graphic set
Taffer's Tilesets
Mayday's tileset compilation
Phoebus' Graphic Set