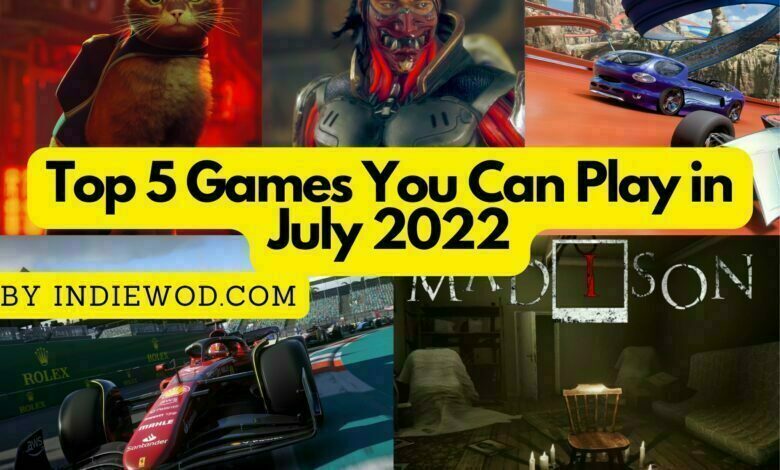 July is expected to bring some big releases, including sequels, follow-ups to well-loved franchises, and paid expansions. Let's take a look at the top 5 notable games you can play in July 2022.
F1 22 – July 1
F122 was out on July 1st worldwide. Codemaster, the developer of F1 games, has completely remade every single car with updated regulations on the account. This means the cars, costumes, gameplay, and atmosphere are built completely differently. Also, along with the usual 10 teams and 20 drivers, a Grand Prix, and career modes for your team and player driver, this year's version has a lot of new features.
For instance, new sprint races will now be played on eligible tracks. Redesigned cars offer changes to driving. It has also created a new adaptive AI system and implemented support for VR headsets for the first time on PC. Then, there's the F1 lifestyle, which includes buying clothing, decorating the formula driver's crib, and collecting supercars. Formation laps and pit stops can be controlled by the player or they can be done automatically.
Considering that F1 2021 was among the best racing games of last year, nominated for the best sports slash racing game at the Game Awards, the interpretation can be given that they'll change a whole lot, yet some iterative improvements are in order.
On July 1, 2022, F1 22 was released for PlayStations, Xbox series XNS, PS4, P5, and Microsoft Windows.
Madison – July 7
Madison is a first-person psychological horror game where players endure the brute torture of Madison. As a player, you connect the human world with the other world by taking pictures to see what's going on, solving puzzles, and, of course, trying as hard as possible so that the player can not die.
This game has this kind of hyper-realistic scariness where everything moves strangely. Madison's narrative begins when you awaken in a dark room, his hands covered in blood, with no awareness of what has happened to him. And he is part of a bloody ritual that apparently started decades ago that he is supposed to participate in and maybe even finish.
As players go through the game, the terror mechanisms alter, and they will find themselves in different situations and settings, surrounded by other beings. Madison will become an interactive story game that lets players create a one-of-a-kind gaming experience that will still be new and unpleasant even after several hours of play.
The Madison developer, Bloodious Games, had to push back the release date of this game because it was going to be released in June. The developers didn't realize that the Steam sale was happening at the same time as the release date, which would have basically caused it to get swallowed up in a huge sea of sales and other purchases.
Developed by Bloodious Games, Madison will be available on July 8, 2022. It will be on several gaming platforms, including PS4 and PS5, Xbox Series X/S, Switch, and PC on Steam.
Looomancer – July 13
Loopmancer is a fast-paced 2D platform game with seven large levels where you play as a detective who is also very good at martial arts and handling weapons, traveling through a cyberpunk city that has some of your typical cyberpunk sites, as well as some things that are surprisingly grounded in a more realistic aesthetic.
This game's graphics are pretty good. For instance, the people are obviously meant to be stylized and have very exaggerated movements. And that's neither a criticism nor a compliment; it's more a matter of taste whether or not you like that. But the atmosphere is absolutely gorgeous in this game. Add that to how fast-paced and fluid the action looks, and you've got what appears to be a pretty interesting side-scrolling action game.
Developed by eBrain Studio, Loopmancer will be published on July 13th. The Loopmancer will be on several gaming platforms, including Nintendo Switch on PlayStation, Xbox One, and Windows PC.
Forza Horizon: Hot Wheels – July 19
Forza Horizon 5 makes a triumphant return to Forza Horizon 5 in the first, long-awaited DLC. Forza Developed by Playground Games, Forza Horizon has been doing an excellent job with this open-world racing title, Hot Wheels. Because it will be released on July 19th, it will receive the first paid expansion with Hot Wheels, introducing ten additional vehicles based on the toy line, exactly like the 2000 Hot Wheels. Forza Horizon 5: Hot Wheels will add four more biomes to the open-world Mexico of the original game in a new area.
Forza Horizon 5: Hot Wheels will tackle four new biomes in a new region set in the base game's open-world Mexico. In these biomes, there will be a lot of Hot Wheels tracks that defy gravity, like rumble, ice, and sweeper tracks, for players to drive on.
Overall, if you enjoy racing games, you can add the game to your wishlist on any of the available platforms. The game will be released on July 19th for Forza Horizon 5 premium edition expansions and premium add-ons owners on Xbox, Xbox Series X, and PC.
Stray – July 19
As if life wasn't difficult enough for the world's stray cats—adopt a cat if you really can—think how these felines would cope if they had to struggle with robots. This is the situation for our protagonist in Stray, a story about a cat stuck in a world full of robots and attempting to find his way back to his home. For cat lovers, Stray is a third-person adventure game that will have open-world aspects in the eyes of cats. But as a player, you're going to end up uncovering some kind of wild mystery about humanity and where it went.
In this sense, it's a very interesting free-roaming cat simulator that places a cat, as we mentioned above, in a large cyberpunk city and has you walk around. It has always been something that piqued players' interest and expectations. It's surprising to see Stray finally come out. If you are interested in this type of simulation game, you can download Stray on PS4, PS5, and Microsoft Windows on July 19th. Indeed, it will be free for PS Plus Premium subscribers.