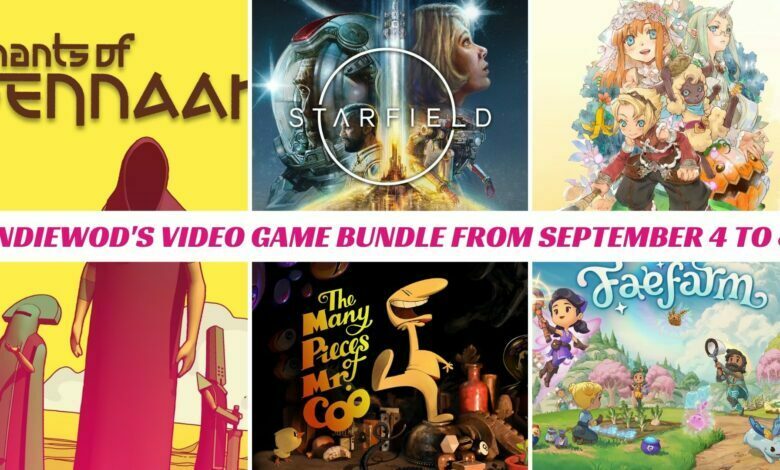 Get ready to level up your gaming experience with IndieWod's incredible indie game bundle from September 4 to 8! This week's lineup is packed with the hottest upcoming games, including Bethesda's most awaited sci-fi game, Starfield, a remastered of one the most popular RPGs, Rune Factory 3 Special, and point-and-click adventure game The Many Pieces of Mr. Coo. Keep your eyes peeled for these five amazing video games and indie games that you won't want to miss out on!
Remember, you can discover more indie games by staying tuned to IndieWod's indie game bundle.
Upcoming video games are games that are currently being developed or are expected to be released soon. These may include new installments in major franchises like Starfield or standalone titles that are anticipated to be a big hit.
Rune Factory 3 Special – September 5
Rune Factory 3 Special is a remastered game of one of the most popular RPGs, Rune Factory 3. The game's star, Micah, is a young man with amnesia who can transform into a golden sheep monster known as a wooly. Rescued from a provincial town, he must bridge the gap between humans and monsters while uncovering his past in the community-based town of Sharance.
XSEED Games has updated the visuals to HD with redesigned 3D characters in this remastered game titled Rune Factory 3 Special. There are also new additions in the game, including Newlywed mode, which lets players go on a cute adventure with any marriage candidate, as well as a Hell difficulty level that will challenge veteran players.
The game is set to release for PCs via Steam and for Nintendo Switch on September 5.
Chants of Sennaar – September 5
Experience an engaging universe in the narrative adventure game, Chants of Sennaar. The game features captivating art direction and allows you to reconnect with the enigmatic communities of the Tower. Immerse yourself in a stunning world with a storyline inspired by the Babel myth.
According to legend, a traveler will one day reunite the People of the Tower who cannot communicate with each other. Explore a universe inspired by the myth of Babel, where ancient languages must be observed, listened to, and deciphered.
Developed by Rundisc and published by Focus Entertainment, Chants of Sennaar will be released for PCs via Steam, Nintendo Switch, Xbox One, and PlayStation 4 on September 5.
Starfield – September 6
Starfield is an upcoming game developed by Bethesda Game Studios and published by Bethesda Softworks. It was announced in 2018 and is set in outer space, a universe 50 light years away from Earth, and it will let you explore thousands of planets and hundreds of stars. 
It should be mentioned that this is the first time in almost 30 years that Bethesda has created a new game series. Starfield will be available to play on Windows and Xbox Series X/S starting on September 6, 2023.
Many critics have given Starfield positive reviews. They enjoyed the game's open-ended gameplay, combat, visuals, music, and technical performance, which is better than previous games made by Bethesda. However, some critics had mixed feelings about the story and exploration aspects of the game.
You can discover more about Starfield on Lawod.
The Many Pieces of Mr. Coo – September 7
The whimsical point-and-click adventure game Mr. Coo, developed by Nacho Rodriguez and supported by the PlayStation Talents Program, will be available in special physical editions from publisher Meridiem Games on September 7 for PS4, PS5, Xbox Series X/S, Xbox One, Nintendo Switch, and PC (Steam). 
The Many Pieces of Mr. Coo is an adventure game where you help the main character, Mr. Coo, get out of a strange and confusing world. Before he can escape, he needs to find all his missing pieces. The game has lots of weird creatures, robots, and strange characters, making it a bit confusing but also funny and entertaining.
The game has colorful and detailed cartoon-style graphics, and the story is full of humor, strange situations, and puzzles. The game is suitable for both experienced and new gamers.
The game's creator, Nacho Rodriguez, is a well-known animator and director who has worked on many successful projects, including a short film nominated for an award. Mr. Coo is one of his most popular characters, appearing in many funny short films.
Fae Farm – September 8
Phoenix Labs is bringing a sprinkle of fairy dust to the farm sim genre with Fae Farm. The game will hit the shelves on September 8, offering a unique twist to Stardew Valley and Animal Crossing with a dash of spellcasting.
In Fae Farm, you can build your dream home in the mystical land of Azoria. You'll have the chance to meet charming characters, form deep relationships, and add a touch of magic to everything you do as you cultivate and develop your homestead.
You can also customize your character, master crafting, cooking, and potion-making, and uncover all sorts of exciting new discoveries.
The game offers a multiplayer experience where you can navigate the island on your own or team up with up to three other players. You can invite your loved ones to join you in the game or visit their homes to progress in person or online. As the seasons change, you'll unlock new areas and help restore the world around you.