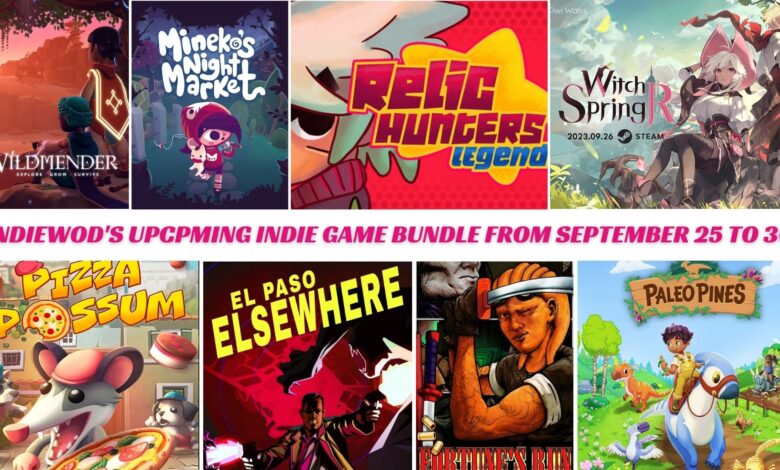 Get ready to level up your gaming experience with IndieWod's incredible indie game bundle from September 25 to 30! This week's lineup is packed with the hottest upcoming games, including a top-down shooter, Relic Hunters Legend; a shooter-action game, El Paso, Elsewhere; a social simulation adventure game, Mineko's Night Market; a fast-paced stealth-and-hide-and-seek, Pizza Possum; and a story-driven RPG, WitchSpring R. Keep your eyes peeled for these eight amazing indie games that you won't want to miss out on!
Remember, you can discover more indie games by staying tuned to IndieWod's indie game bundle.
Relic Hunters Legend – September 25, 2023
Relic Hunters Legend, a top-down looter shooter from Brazilian developer Rogue Snail and Gearbox Publishing, was launched with its early access version on Steam.
You can embark on a new adventure in a colorful galaxy filled with characters and action. You need to loot powerful equipment and weapons, unlock new abilities, and customize your hero to take on hordes of enemies in online co-op or solo. A variety of playable heroes, including Ace, Jimmy, Raff, Pinkyy, Bui, Panzer, and Seven, will let you experience the action from every angle.
Relic Hunters Legend was released in Early Access on Steam on September 25.
WitchSpring R – September 25, 2023
WitchSpring R, from developer Kiwi Walks, is a story-driven RPG that blends elements of collecting, simulation, and battling. As players guide Pieberry, a young witch, through a forest filled with diverse challenges and characters, they'll be able to experience gameplay mechanics like skill training and magical crafting.
WitchSpring R was released on September 25 on Steam. The game features drop-in co-op online play and looks to be a high-energy take on its genre, and is sure to be popular among players looking for an action-packed co-op title.
Paleo Pines – September 26, 2023
Embark on an adventure to the island of Paleo Pines, a magical and quirky place inhabited by friendly dinosaurs and kind-hearted locals. In this fun and cozy game from Modus Games and Italic Pig, you'll create a successful ranch, help the island's inhabitants, and make friends with a variety of colorful dinosaurs as you unravel the mysteries of the island's past.
Paleo Pines will be released on September 26, 2023, for PCs via Steam, PS4, PS5, Xbox Series X/S, and Nintendo Switch. The game will be available in multiple language options and features a variety of gorgeous landscapes to explore and interact with, including flowery valleys, high canyons, and more!
Discover a collection of cheeky dinosaurs to befriend and employ as ranch helpers, coaxing them nearby by mimicking their calls with your flute.
Mineko's Night Market – September 26, 2023
Mineko's Night Market is a social simulation adventure game that celebrates Japanese culture and introduces a heartwarming story about friendship, tradition, and many, many cats.
You will play Mineko, a curious girl who has just arrived at her new home on a struggling Japanese-inspired island at the base of mysterious Mount Fugu. You will be able to discover the secrets of the island while managing your daily life, completing various jobs, venturing on whimsical quests, and crafting peculiar items in preparation for the town's weekly Night Market!
Originally announced five years ago, Merge Games and Humble Games are finally bringing Mineko's Night Market to release on Xbox, on Switch on PCs via Steam and PlayStation on September 26.
El Paso Elsewhere – September 26, 2023
El Paso, Elsewhere is an exciting and thrilling indie game where you play as a hero who battles with supernatural creatures like werewolves and fallen angels. The game has a unique slow-motion feature that adds to the excitement, and it pays homage to classic action movies.
You will have to navigate through a mysterious motel that keeps changing, and fight your way through each floor to save the victims from Draculae, the powerful vampire lord. As the hero, you must defeat the villain you once loved, even if it means risking your own life.
Featuring a pill-popping heroine, noir monologues, and a reality-shifting motel that defies gravity at 46 stories high, El Paso Elsewhere is an indie shooter from Strange Scaffold that wears its Max Payne influences on its sleeve.
From Xalavier Nelson Jr, who's worked on quirky titles, El Paso Elsewhere looks to be a wild ride filled with pulse-pounding action. Watch the trailer below, and download the new demo on Steam for a chance to gun down monsters in a low-poly world that shifts and morphs with each step through a warped motel.
Fortune's Run – September 27, 2023
Fortune's Run is a fast-paced shooter set in a dystopian future where food is free, but people starve, and the stars are consumed by huge Dyson spheres.
The player is an ex-con who completes contracts for clients as he seeks revenge. Combat is a fusion of stealth and run 'n gun style, but players can also choose to arm themselves with a katana that can be parried with bullets. This is a world where there is much to discover, but players will have to make quick decisions if they want to survive.
This is a great indie release for players who love a combination of dystopian future and fast-paced shooter games. Fortune's Run will be available on Steam Early Access on September 27.
Wildmender – September 28, 2023
Developed by Muse Games and published by Kwalee, Wildmender is an eco-friendly survival game that will see you building up your own desert oasis.
As a player, you'll be tasked with bringing life back to a barren world and exploring its temples, mysteries, and secrets. With the help of your friends, you'll battle the wraiths that corrupt the land while unearthing what went wrong with a once-proud civilization.
With a procedurally-generated world to explore, you'll need to manage your resources and grow food while protecting your home from corruption. The more you save nature, the more you'll be able to harness magical essence, helping you unlock new skills and power ups along the way.
Wildmender will be released for PlayStation 5, Microsoft Windows via Steam and Epic Games, and Xbox Series X/S on September 28.
Pizza Possum – September 28, 2023
Publisher Raw Fury and developer Cosy Computer will release their next game, Pizza Possum, a fast-paced stealth-and-hide-and-seek experience, on September 28.
In this adorable food heist, you play as a hungry possum out to devour all the tasty treats in town. However, you're hunted by a group of patrolling guard dogs, so you need to run around hiding and stealing to avoid capture.
You will try to escape or distract dog patrols using a range of tools, from smoke bombs to punching gloves. You can play the game solo or with a playful friend via local multiplayer. Scurry across a whimsical island world to steal all the delicious things you can lay eyes on, from decadent cheese wheels and mouth-watering fruit spreads to, of course, pizza.
Check out the trailer for the game below, and watch out for those guard dogs. You can pre-order the game now on Steam, and you can expect to see it hit PS5, Xbox Series X|S, and Nintendo Switch on September 28.