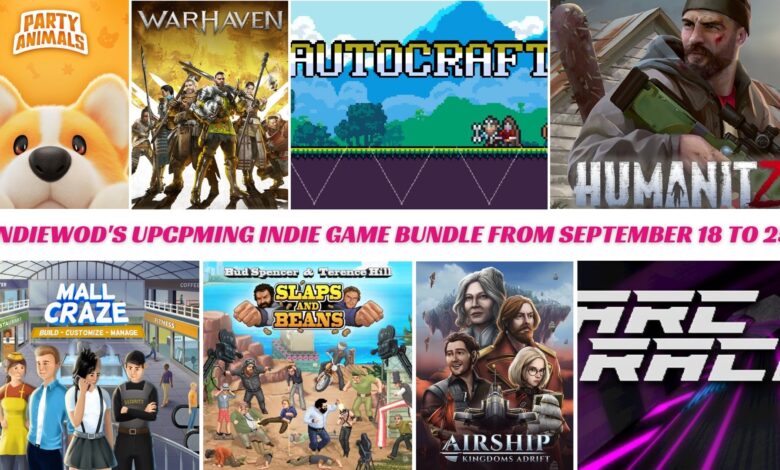 Get ready to level up your gaming experience with IndieWod's incredible indie game bundle from September 18 to 24! This week's lineup is packed with the hottest upcoming games, including a Zombie survival HumanitZ, shopping center management Mall Craze, a physic-based brawler Party Animals, a free-to-play medieval fantasy, Warhaven, and a story-based simulation and RPG Airship: Kingdoms Adrift. Keep your eyes peeled for these eight amazing indie games that you won't want to miss out on!
Remember, you can discover more indie games by staying tuned to IndieWod's indie game bundle.
HumanitZ – September 18
In a world devastated by a zombie outbreak, the fate of humanity rests in your hands in this top-down survival HumanitZ. As usual from all other Zombie survival games, you must fight to survive and rebuild society as the dominant species.
HumanitZ offers an open world where you can play alone or with friends in co-op mode. Thanks to this ope-world feature, you can explore a barren world that is controlled by Zeek zombies and dangerous bandits.
There is also a crafting and building feature where you can craft whatever you need to survive and build safe houses to use as a base or place to hide against deadly Zombies.
HumanitZ has just been released for PCs on Steam and the Epic Games Store. If you like Zombie survival games, you should look at at least its demo version to see if the game is charming.
Autocraft – September 19
Developed by Kadragon, Autocraft is an idle game that you can play while watching your favorite Netflix game or just chill out.
The game places you in the role of a formidable champion, endowed with the ability to gather valuable loot and imbue your shield with powerful bonus gems discovered throughout your adventures.
Autocraft will be released on September 19 only for PCs on Steam.
Mall Craze – September 19
Mall Craze is a tycoon-style game that lets you design and build your very own mall. It's a little different from the typical offerings out there in that your mall will host famous celebrities who will bring attention and more people to your store.
The game is now available on Early Access on Steam and is currently in the state of Creative Sandbox. The main goal of the developers for Early Access is to transform the game into a proper management game.
So, you will be able to build, customize, and manage your shopping center entirely at the end of the Early Access. If you like management games and shopping centers, you should take a look at the game since it there not much like mall management games in the market.
If you're unsure whether the game is right for you, you can check out the demo version on Steam. This will give you a chance to test it out and make sure it meets your needs before you commit to purchasing it.
Party Animals – September 20
Developer Recreate Games revealed a September 20 release date for its cute multiplayer physics-based brawler Party Animals.
In the game, players choose from a wide variety of adorable anthropomorphic animals and duke them out in arenas like a nuclear submarine, bomber, and giant inflatable pig.
Party Animals' wobbly animations might be a turn-off at first, but the sticky, moving-through-molasses feel helps to contribute to its loose sense of combative chaos.
There are a lot of fun references to popular video games and tropes that make this one of the most entertaining indie titles to watch out for this year.
Take a look at Lawod to learn more about Party Animals and where to download Party Animals.
Warhaven – September 20
Warhaven is a free-to-play medieval fantasy game from Nexon and developer Night School Studio. A sequel to Oxenfree, it's been delayed for a few years but is now ready to launch on September 20 for PCs on Steam.
The best part is that this big team PVP medieval-fantasy warfare game will be free to play.
Warhaven offers exciting melee combat that is enjoyable for both new recruits and experienced players. You can choose from a variety of unique soldiers, each with their own reasons for fighting under the Warhaven banner.
Before each battle, work with your team to plan out your tactics and outsmart your opponents. Your goal is to take control of key locations and the powerful weapons they hold.
If you prove yourself to be a skilled soldier, you may earn the opportunity to become an avatar of the Immortals. These powerful gods dominate the battlefield and can help you turn the tide of the war in your favor. So go ahead and take your shot at immortality – it could make all the difference in the battle!
Airship: Kingdoms Adrift – September 21
Airship: Kingdoms Adrift is a story-based sky battle and trading simulator developed by Revolutionary Industry and published by Freedom Games.
You can explore the vast skies of Europa and customize and upgrade 30 distinct airships that range from graceful sailing vessels to ironclad dreadnoughts.
In the game, you can collect different materials to build places where you can work on your ship and build new parts to make it better. Adding new frames can also make your ship faster, more maneuverable, stronger, and more powerful.
Trade routes and industries can be established across the Segson Archipelago, where you can find and deal in over 300 unique trade goods.
The most enjoyable and exciting part of the game will be the times when you soar into epic sky battles and face off against a variety of enemies, from pirates to law enforcers.
Airship: Kingdoms Adrift is set to release on September 21 only for PCs via Steam and Epic Games.
Bud Spencer & Terence Hill – Slaps And Beans 2 – September 22
Fans of Bud Spencer and Terence Hill can rejoice as the dynamic duo returns in the new sequel of their popular game, Slaps and Beans. Continuing from where the first game ended, our heroes will embark on new adventures in new places and meet many new characters along the way.
Bud and Terence end up in Africa after their ship sinks. They come across a village that is in trouble because of some bad people. Our heroes help the village and then leave on a raft filled with bananas. However, their journey home is not smooth sailing, and they face some challenges along the way.
Slaps and Beans 2 is a retro-style scrolling fighting game that can be played alone or with a friend. Players will control the two main characters, Bud Spencer and Terence Hill, and experience an improved combat system.
Additionally, the game features new environments that will progressively add more enemies as the difficulty increases. And, of course, fans can expect lots of funny quotes from the iconic duo.
Slaps and Beans 2 features new mini-games that can be played repeatedly in a dedicated party play area for up to 4 players.
Bud Spencer & Terence Hill – Slaps And Beans 2 will be released for PCs on Steam, PS5 on PS Store, and Nintendo Switch on Nintendo Store on September 22.
ArcRacer – September 22
ArcRacer is a thrilling racing game that lets you compete against others in fast-paced, high-speed races. Developed by indie game developer Foxel, the game will be released for PCs on Steam on September 22.
The game is inspired by classic games like F-Zero and WipEout, and offers a new challenge for experienced players while being fun and easy for beginners.
You'll need to use your wits and racing skills to outsmart your opponents, survive tricky obstacles, and unlock new tracks and vehicles.
With a full campaign mode, you can set record times and become the ultimate champion!