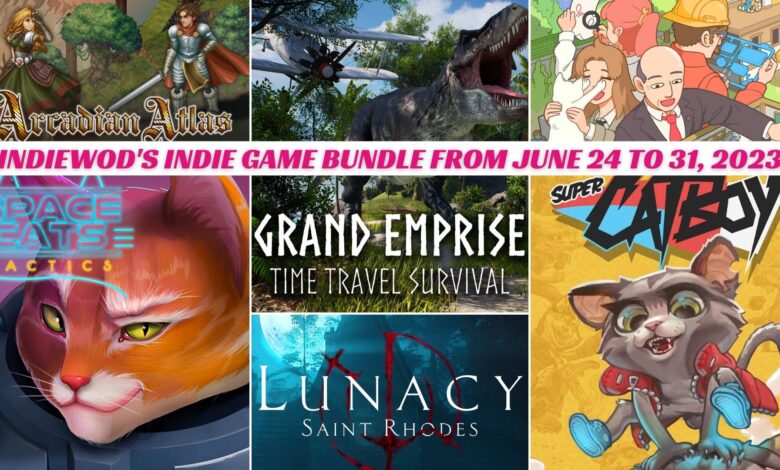 Get ready to level up your gaming experience with IndieWod's incredible indie game bundle of July 24 to 31! This week's lineup is packed with the hottest upcoming games, including turn-based strategy games, sic-fi adventures, survival games, and simulation games. Keep your eyes peeled for these nine amazing indie games that you won't want to miss out on!
Remember, you can discover more indie games by staying tuned to IndieWod's indie game bundle.
Super Catboy – July 24
Publisher Assemble Entertainment and developer Pixelpogo have announced that their '90s-inspired action platformer Super Catboy was released on July 24 for PC via Steam. 
Super Catboy centers on the feisty feline protagonist Catboy and his deranged-yet-cute sidekick Weapongirl as they attempt to thwart the shady plans of their evil creator Dr. Ungefugs and his army of anthropomorphic dogs.
Inspired by classic games like Mega Man X and Metal Slug, Super Catboy combines elements of platformers, run-n-gun, and beat 'em up to create a fast-paced and high-octane experience. You can jump, dash, and fight through diverse biomes, such as snow-capped mountains, mystical forests, and derelict factories.
Super Catboy's modernized pixel art style is a nod to the classic games of 2022, resulting in a retro gaming experience that is both visually striking and deeply nostalgic. 
Space Cats Tactics – July 24
Space Cats Tactics is a new strategy indie game that's set to come out on Steam on July 24. Developed by Mitzi Games, the game blends the nerve-wracking battles of FTL and XCOM with felines.
The game puts players in the shoes of Captain Mitzi, a feline spaceship captain hired to deliver a ship to a distant galaxy, but he quickly discovers that his mission is much more than he bargained for. He'll be confronted with powerful and dangerous villains and heroic heroes during the journey.
This action-adventure game combines ship combat and crew management with an expansive space opera story. The game stands front with its deep combat system, where you can decide how to spend action points on weapons, attacks, and special abilities.
Overall, Space Cats Tactics was inspired by acclaimed titles like XCOM, Star Command Galaxies, and Divinity: Original Sin and offers a unique sci-fi adventure.
Let's School – July 26
Let's School is a simulation indie game where you take on the role of a new headmaster and rebuild your old school. The game is based on interesting events in different schools in Asia and gives you complete control over the development of the school. 
As a player, you have the opportunity to develop and expand the school grounds by choosing equipment and hiring teachers. This allows you to create a personalized and one-of-a-kind educational environment.
In the game, you also will face various emergencies that will challenge your managerial abilities, which we like this feature the most. These may include instances like students skipping classes, contraband, or incidents of campus bullying.
Let's School is set to be released on Steam on July 27 only for Microsoft Windows PCs.
Grand Emprise: Time Travel Survival – July 27
Time Travel through history to become a God and ride dinosaurs, forge primitive tools, sail dunes, build a colony, siege castles, automate and fly, mine underground, and even launch to the moon in this ever-expanding game of high gameplay variety.
The survival crafting base building open-world adventure, Grand Emprise: Time Travel Survival, will be released on Steam on July 27 only for Microsoft Windows PCs.
Grand Emprise allows players to travel through history and become a god and has gained over 140,000 wishlist additions on Steam following its recent announcement. The game appears to be a promising combination of Ark: Survival Evolved's world-building and the space exploration of No Man's Sky and Astroneer.
Arcadian Atlas – July 27
Publisher Serenity Forge and developer Twin Otter Studios have announced that the tactical RPG Arcadian Atlas will release on July 27 for PCs on Steam, with console versions to follow later this year. 
Featuring stunning pixel art and a deep narrative that challenges players to make difficult and emotional choices, the game revolves around a powerful ancient power known as The Atlas that can change lives in an instant.
In this isometric strategy indie game, players can build an elite party of explorers from over 12 custom classes with individualized skill trees and gear. From potion-brewing apothecaries to magic-channeling warmers, every decision in strategic turn-based battles will determine the fate of your party and the land they fight to protect.
Lunacy: Saint Rhodes – July 27
Publisher Iceberg Interactive and developer Stormling Studios are bringing an intriguing new take on family tragedy to the haunted town of Saint Rhodes with Lunacy: Saint Rhodes.
Set to be released for PC on July 27, 2023, Lunacy: Saint Rhodes allows players to experience the game's unique twist on horror as they explore their tragic family history and battle inner demons. Unseen forces observe your every move in a terrifying world of strange and dangerous creatures that require a unique approach to defeat.
The story begins with a man named Rhodes awakening to a phone call at his office. He's then greeted by a sheriff who asks him to search his large ancestral home in the town of Saint Rhodes. After agreeing, he discovers that something horrific happened within the house. The game then starts to unravel a narrative through small cinematics, phone calls, and notes lying around the house.
The eerie setting in Lunacy: Saint Rhodes is made all the more unsettling with a top-notch soundtrack and a detailed world that slowly, and sometimes tantalizingly, reveals its tale of dark family history.