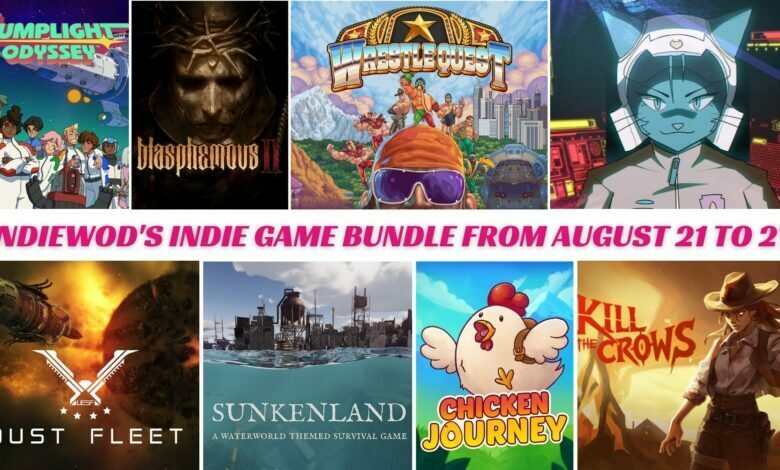 Get ready to level up your gaming experience with IndieWod's incredible indie game bundle of August 21 to 27! This week's lineup is packed with the hottest upcoming games, including a sic-fi adventure Jumplight Odyssey, the post-apocalyptic survival game Sunkenland, and wrestling RPG WrestleQuest. Keep your eyes peeled for these eight amazing indie games that you won't want to miss out on!
Remember, you can discover more indie games by staying tuned to IndieWod's indie game bundle.
Jumplight Odyssey – August 21
Melbourne-based League of Geeks (Armello) is bringing their new starship colony sim Jumplight Odyssey to Steam Early Access on August 21. 
Inspired by 1970s sci-fi anime, the game puts players in control of Princess Euphoria and her crew as they flee from Admiral Voltan and the war-mongering Zutopans while seeking out the fabled Forever Star.
The game will challenge players to manage everything from luxuries to defenses, balancing resource production and reducing anxiety among the crew. It's also set to feature a number of different events, each with its own unique impact on the ship. Each run is designed around multiple attempts, with each failure teaching the player how to improve their strategy and build on successes.
With an immediately endearing presentation that straddles the line between 2D cartoons and 3D characters and ships, Jumplight Odyssey looks set to offer an interesting take on the management genre.
WrestleQuest – August 21
After a few delays, WrestleQuest will finally hit the virtual shelves on August 21. This wrestling RPG mixes the larger-than-life personas of pro wrestling with the whimsy of an action RPG and features a huge roster of licensed wrestlers.
You can experience the ultimate pixel-powered adventure where the worlds of pro wrestling and RPG fantasy collide and receive guidance from legendary icons like "Macho Man" Randy Savage as you powerbomb your way to glory beyond the ring.
This game has all the markings of a true classic, with gorgeous visual pixel art and gameplay. The story follows two Children of Solstice – Valere and Zale – as they fight to stop a powerful demon, and the studio's passion for old-school 3D platformers is clear from every frame.
Whisker Squadron: Survivor – August 21
Embark on a thrilling cosmic adventure with Whisker Squadron: Survivor, a roguelite on-rails shooter game that takes your feline flight crew on wild 30-minute runs. Your mission is to seek revenge on the Swarm and fight to stay alive in each randomized adventure.
In the game's story, the cosmos is overrun by mechanized insects known as The Swarm, who proliferate, split, and conquer, leaving endless destruction in their wake. You are part of a team of feline pilots who must take control of their custom-built spacecraft to obliterate The Swarm for the good of all animal species.
This cosmic roguelite on-rails shooter by developer Flippfly is set to launch into Early Access on August 21 on Steam.
Players will be able to customize their ship through acquired upgrades and randomized passive ship items. They will also be able to unlock new pilots, weapons, and perks throughout runs, which are typically 30 minutes long.
Kill The Crows – August 21
Kill The Crows is an action-packed, top-down arena shooter that takes place in a dark Western world. A gunslinger, filled with a desire for revenge, enters the remains of an abandoned town, prepared to confront death. You should prepare for intense gunfights where every shot counts as you use classic revolvers and fanning techniques.
There's a war in the countryside – a "culture war," if you will – over the carrion crows that are terrorizing the fields and preying on livestock. Farmers are using everything from high-tech drones and lasers to more low-tech methods like stringing up dead crow carcasses and setting out scarecrows.
Kill The Crows is set to be released on Steam on August 21 only for Microsoft Windows PCs.
Chicken Journey – August 22
Embark on an epic adventure with the cutest chicken protagonist in this relaxing 2D puzzle platformer. Featuring a blend of Super Mario, Limbo, and Celeste-style level design and a unique set of environmental power-ups, Chicken Journey delivers an exciting and gratifying experience that will leave you clucking for more.
The enchanting visuals are a feast for the eyes, with colorful character designs and detailed animations that immerse players in a captivating world filled with farm life. The game also comes with a well-written story, in which you try to find an answer to the question that has dumbfounded sages for millennia: "What came first: the Chicken or the Egg?". This makes Chicken Journey a truly charming game that is sure to resonate with players on a personal level.
Development studio looneyware has announced that their adorable platformer, Chicken Journey, is releasing this August 22.
Dust Fleet – August 23
Dust Fleet is a space simulation game where you take command of a battle fleet and manage your ships while keeping an eye on the space stations.
The game is set in the 24th century when humans are struggling to colonize space. There are very few habitable worlds, and overpopulation is a big problem. To make matters worse, our civilization's need for resources has only increased. The Dust Zone has been the solution to our problems for a hundred years. It's a place jointly controlled by the United Earth Nations and the Zone Mining Cooperative.
Now, the Dust Zone has gone dark. There are no more supply hauls arriving and our civilization is facing a crisis. We need the commander of UEN's finest fleet to take charge and investigate the situation. The mission is to solve the supply chain crisis and prevent it from getting worse.
This game will test your strategic skills in a turn-based management mode. You will also have to lead your fleet in intense, real-time space battles. It's up to you to save humanity from this unprecedented crisis!
Dust Fleet is set to be released on Steam on August 23 only for Microsoft Windows PCs.
Blasphemous 2 – August 24
Originally revealed in 2021, The Game Kitchen and Team 17 finally announced a release date for the dark Metroidvania Blasphemous 2. Set to arrive on August 24 for PCs via Steam, PS4, PS5, Xbox One, Xbox Series X|S, and Nintendo Switch, this sequel to 2019's acclaimed action platformer is sure to please fans of the original.
Immerse yourself in the brutal world of Blasphemous 2, a non-linear experience that offers countless scores to settle. Explore enchantingly grotesque landscapes exuding gothic charm and riddled with unforgiving traps. Execute brutal and devastating attacks using expanded combos to overcome a gallery of twisted abominations. Customize and improve the Penitent One's base skillset while wielding unique new weapons to combat demons, heretics, and titanic bosses clamoring for your bloody judgment.
Explore a vast and unforgiving world in this highly anticipated sequel to the acclaimed Metroidvania Blasphemous, gripping players with tight hack-and-slash gameplay and unforgettable visuals. Unfold a compelling narrative, uncover a wealth of secrets, and deliver your final judgment upon a wretched world of grotesque monstrosities and relentless battles.
Sunkenland – August 25
Sunkenland is a thrilling game based on post-apocalyptic survival and exploration, taking place in the near future when water has engulfed most of the Earth. Players can embark on expeditions to explore submerged cities, gather resources and advanced technologies, construct their own base, engage in trading, combat, and strive to endure.
In this post-apocalyptic survival game, you'll explore sunken cities and fight against an army of mutant rats. Developed by Petoons Studio, it's been described as a "ratoidvania" and is set in a vibrant hand-drawn world. Players will be able to play solo or with up to three friends through local co-op.
Sunkenland is set to be released on Steam on August 25 only for Microsoft Windows PCs.