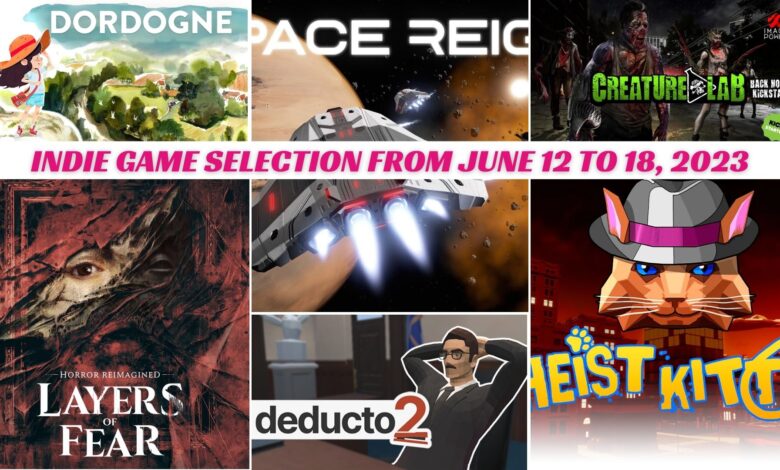 Their simple graphics and unique plots characterize indie games. They compete with AAA titles in terms of storytelling and creativity and also feature a variety of methods for monetization.
Some indie games become cult hits and start new gaming trends. Here is this week's indie game selection of IndieWod staff. Who knows, some of them may start new gaming trends!
To discover more indie games, stay tuned to IndieWod's indie game bundle.
Space Reign
Space Reign is a space-sim and strategy game that mixes ship and fleet combat with the management of a private space corporation. You can pledge your allegiance to one of the megacorporations fighting for control over deep space natural resources in the near future, complete security tasks, and earn their trust to gain access to a unique arsenal of ships and weapons.
You will experience epic battles between entire fleets and increase your influence in the universe by claiming sectors for your faction.
Powered by CRYENGINE, this fully immersive indie game delivers breathtaking 3D graphics and incredible real-time battles.
Space Reign is available on Steam only for Windows operated PCs.
Heist Kitty: Multiplayer Cat Simulator Game
A first-person destructive cat simulator, Heist Kitty gives players the opportunity to wreak havoc in a blocky sandbox world as the Ultimate Cat Nuisance. You will choose a "meowgnificent" furry persona and then unleash mayhem by swatting human possessions off of shelves, destroying curtains and precious collectibles, and even driving cars.
You work for Mayor Mittens and her Meowfia or go straight to the top as Chief Hairris of the Purrlice. The open-world game features a zany main story with lots of twists and turns, and the plethora of nonsensical activities make it a fun experience for both cats and gamers.
Heist Kitty: Multiplayer Cat Simulator Game features unique gameplay that successfully combines humor and elements reminiscent of GTA, making it a great choice for both fans of cats and those who enjoy multiplayer games. Its cute graphics, fun gameplay, and great sense of humor also help to make it one of the most entertaining indie games to date.
Heist Kitty: Multiplayer Cat Simulator Game is available only for Windows operated PCs on Steam.
Dordogne
Dordogne, a narrative adventure game, casts players as Mimi, a 32-year-old who returns to her family home in Dordogne after her grandmother's death. As she explores her grandmother's house and the surrounding countryside, the game flips between past and present as Mimi rediscovers childhood memories while filling up a journal of letters and other objects.
Un Je Ne Sais Quoi and Umanimation have worked hard to create a homegrown taste of the Dordogne region in this wholesome experience. It's a gorgeously presented experience that is available on PC, Xbox, PlayStation, and Switch.
Deducto 2
If you're looking for a game that lets you betray your friends in a believable corporate world, look no further than Deducto 2. This multiplayer social scam and the backstabbing game promises proximity voice chat, unique work-themed roles, interesting weapons, daily challenges, and the ability to use vents, cameras, and traps.
While the game can feel a bit thrown together at times, and its visuals are janky, it offers a fresh take on the genre that sets it apart from games like Among Us which often follow similar themes.
Deducto 2 is available on Steam for Windows OS PCs.
Layers of Fear
A psychedelic horror game that teeters between the surreal and the gruesome, Layers of Fear is an unsettling tale of a reclusive artist struggling to complete his magnum opus while sinking deeper into alcoholism. Bloober Team's Victorian mansion offers a somber backdrop for this twisted drama, with smashed bookcases, worrying stains, and paintings derived from the Thousand Yard Stare school of Golden Age Dutch portraiture all contributing to the atmosphere of despair.
The game's sleight-of-hand is what really stands out, with environments frequently shape-shifting the instant they're left unattended. It's a trick that works well enough but is ultimately held back by a lack of surprise and subtlety.
Layers of Fear is an interesting psychological horror experience, with plenty to see and do in its claustrophobic setting. However, it's also a bit too familiar and overexposed. For that reason, the game fails to keep its edge.
Find Layer of Fear on Steam and add it your chart if you like psychological horror games.
Creature Lab
Creature Lab is an intriguing first-person simulation game with puzzle-like elements and a vengeful scientist bent on creating the ultimate monster.
Conducting mad experiments and wreaking havoc in your laboratory is all part of the fun. The lab is packed with chemicals and microbes that you can mix into mutagens to create abominable creatures. You can also incubate new body parts for your abominations, such as large claws and pincers for more damage or hooves for greater agility.
Once you've built your walking freak show, you can pit it against other players' creations online. Creature Lab is a solid horror-themed simulation that will appeal to an older audience thanks to its well-implemented minigames and easy-to-learn battle mechanics. However, its repetitive gameplay, and the Wii motion controls mar what could have been a better title.