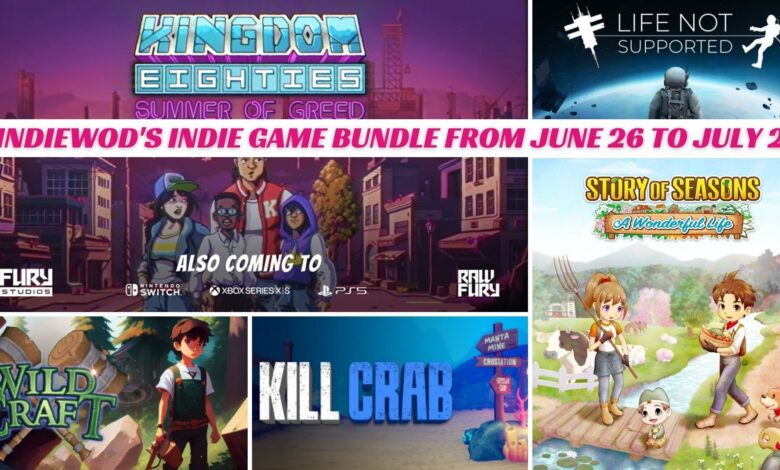 IndieWod's indie game bundle from June 26 to July 2 includes a mix of action, adventure, simulation, and strategy games that appeal to all kinds of indie game fans.
This week's indie game bundle of IndieWod includes pixel-art platformer Kingdom Eighthies, a space survival game Life Not Supported, a reimagined farming game Story of Seasons: A Wonderful Life, online survival crafting game WildCraft and first-person shooter indie game Kill Crab. 
You can discover more indie games by staying tuned to IndieWod's indie game bundle.
Kingdom Eighties – June 26
Kingdom Eighties is a love letter to the nostalgic days of summer camps, biking, and sitting around in pajamas in front of the TV. When the mysterious Greed threatens a small, middle-American town, a ragtag group of kids is dragged into an epic struggle with seemingly insurmountable odds.
The pixel art visuals of the game are absolutely gorgeous, with neon signs and plenty of other homages to the 80s done in style. The wubbering synthwave soundtrack also fits the game perfectly.
The gameplay is familiar to fans of the series, with recruiting neighborhood kids and assigning them roles as builders or soldiers to expand your territory. You'll also uncover secrets regarding Greed, the Crown of Creation, and your family lineage.
The demo of Kingdom Eighties that went live for Steam Next Fest isn't very long, but it gives a good taste of what the full experience will be. You can also add the game to your library on Steam.
Life Not Supported – June 26
Life Not Supported is a possible new home for civilization, a space-survival game (not a space simulator) that takes place in orbit around a distant planet. 
You are the only survivor bound to the wreckage of your ship after a catastrophe of unknown origin. To survive the harsh realities of space, gather nearby debris and piece together a new vessel with your trusty roll of duct tape. Maybe by then, you'll be old enough to figure out what caused the ship to malfunction.
The game will be available on June 26 only for PCs on Steam. Before buying the game, you may also want to take a look at the game's free demo version to see what kinds of gameplay the game will offer.
Story of Seasons: A Wonderful Life – June 27
The respected farming sim series is getting another modernization in this summer's reimagined Story of Seasons: A Wonderful Life. The game will be released on June 27 for PC on Steam, PS5, Switch, and Xbox Series X|S.
You will establish a foundation on your new farm in the tranquil community of Forgotten Valley and create priceless memories as you tell your own tale of farming, family, and friendship that spans generations.
In this reimagining of a beloved farming classic, you will cultivate the land by raising crops and raising animals, find love among the kind residents of the town, and create enduring memories with your very own family.
The game will include a number of improvements in the genre, including the addition of more marriage candidates, an expanded festival schedule, improved gameplay mechanics, a cornucopia of never-before-seen crops, and other quality-of-life changes.
WildCraft – June 29
WildCraft is an immersive online survival crafting adventure set in a visually stunning world where players experience life as a variety of wild animals. You will choose from a wide selection of wildlife species, including wolves, lynxes, and deer, each with unique abilities, strengths, and weaknesses.
The game's expansive open-world gameplay allows for full freedom of exploration and discovery. The world is teeming with hidden treasures and dangerous creatures, from lush forests and towering mountains to treacherous deserts and mysterious mines.
WildCraft's robust crafting system allows you to gather and create weapons, tools, and armor to aid them in their quest for survival.
With a real-time day-night cycle, dynamic weather systems, and a variety of ecosystems, you will have to manage your resources carefully and remain vigilant against natural and supernatural threats.
WildCraft will be released on June 29 on Steam for PCs. The game is, on the other hand, available on Google Play Store for Android-operated mobile devices.
Kill Crab – June 30
Kill Crab is a first-person shooter that requires you to kill aquatic pests in order to complete combat challenges. To escape, the player must succeed in 4 combat challenges. The theme of the game combines the underwater world with the wild west.
In this underwater FPS game, players must fight and eliminate crabs and sea creatures to confront the colossal goldfish, The Nugget Nibbler. They must navigate through three unique combat arenas, unlocking new weapons like underwater firearms, explosives, or specialized gear.
The Nugget Nibbler, the formidable boss, will be summoned after clearing all three arenas. The final battle will test skills, reflexes, and strategy, as players face a death-to-death battle to emerge victorious.
The game's unique blend of elements from the wild west adds an exciting and immersive gameplay experience. If you are eagerly searching for an enjoyable FPS game, you can add Kill Crab to your wishlist on Steam. The game will be released on June 30 on Steam for PCs.