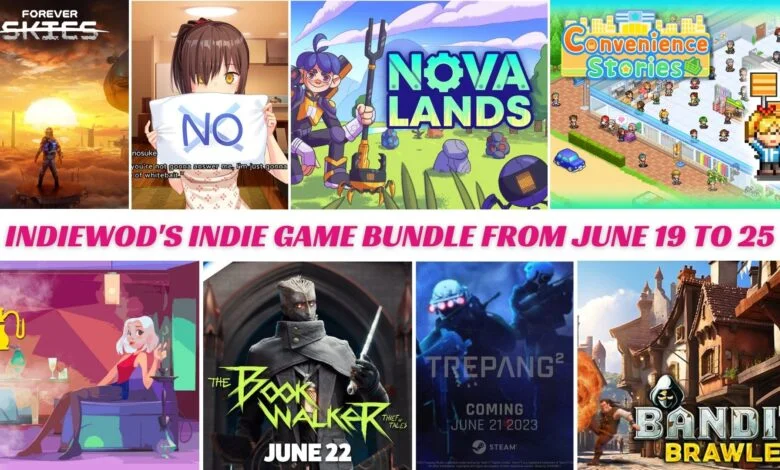 IndieWod's indie game bundle from June 19 to 25 includes a mix of action, adventure, simulation, and strategy games that appeal to all kinds of indie game fans.
There are also some quality games in this week's bundle like Trepang2, Forever Skies, and The Bookwalker: Thief of Tales. Check out the whole list and stay tuned to IndieWod's indie game bundle, to discover more indie games.
Convenience Stories – June 19
In this charming business simulation, you can pretend to be a convenience store manager. Arrange and personalize the store with a wide range of goods, including candies, beverages, and even hot meals. You have a choice!
You'll immediately notice the similarities between Convenience Stories and if you've played any other Kairosoft games. While they are both management simulators, you'll need different abilities to hit your company's annual sales target.
This game would be an absolute must-play if you liked Dungeon Stories 2 or any other management sim by Kairosoft. Additionally, because it is a paid game, there are no ads or in-game purchases.
Convenience Stories will be accessible on PCs on Steam, Android on Google Play Store, and Nintendo Switch after its initial launch on June 19.
Bandit Brawler – June 21
Get ready to rob, steal and fight your way through an open medieval world with an upcoming fighting game Bandit Brawler.
Robberies, muggings, and picking pockets are all on the menu as you follow orders from a magical rooster and wreak havoc across town. Use a variety of weapons to dispatch enemies in hand-to-hand combat.
A kick in the nuts, a sucker punch, and a bitchslap are your arsenal as you battle your rivals in an ever-changing open world.
You can also explore a colorful world filled with chests to loot and damsels to rescue, earn respect in the 'hood by fighting goons and knights alike and unlock several bandit tools to help you on your journey.
Your primary objective will be to restore normalcy to a magical chicken. Whatever he means by "normal." You can help him by exploring an open medieval world, engaging in combat with goons and knights, earning gold and respect, and eventually unlocking a number of skills and bandit tools to aid you in your mission. Bear in mind that neither pigs nor chickens can walk on two legs.
Bandit Brawler will be available on Steam for PCs on June 21. 
Trepang2 – June 21
Trepang2 is an action-packed FPS set in a blood-soaked future. You play as an escaped soldier, plagued with amnesia and infused with supernatural abilities, on a mission of destruction and revenge. Dodge bullets and leave behind a path of destruction as you deliver bone-crushing melee combat, sneak around in the shadows, and wield explosive weaponry.
The Unreal 4-powered game from developer Trepang Studios is a love letter to the effects-filled shooters of the mid-2000s, with slow-mo bullet dodging and gory dismemberment aplenty. But it's the intelligent enemy AI that really stands out. Enemy radio chatter and the way their movements synchronize with explosions make them more than just dumb drones to slaughter.
Publisher Team17 and Trepang Studios are releasing the gory, sci-fi FPS on June 21 for PCs on Steam.
Hookah Cafe Simulator – June 22
The tycoon genre may not have a niche for a game about running a hookah cafe, but developer Cheesecake Dev isn't one to let the odds hold them back.
Hookah Cafe Simulator is a full-featured management sim that might not be the prettiest, but it still delivers a deep and rewarding experience.
Fulfilling customer orders quickly and efficiently is key to your success in Hookah Cafe Simulator, and upgrading your store with new equipment will help you attract more and more of them. But with competition fierce and the pressure on, it's going to take a lot of hard work and dedication before you see real profits.
Hookah Cafe Simulator will be available on Steam for PCs on June 22.
Nova Lands – June 22
Nova Lands is a factory building, exploration, and island management game with automation mechanics. Think of it as a cross between Factorio, Forager, and Satisfactory. You explore a new planet that teems with mysteries, creatures, and people while constructing your home and automating your industry.
In Nova Lands, you can build your home on a new planet with a vast array of resources to scout and exploit – from simple rocks and wood to rare and unknown materials. Defend against aggressive creatures and explore each island, unlocking more possibilities and expanding your industrial capabilities.
You'll also be able to automate most aspects of your life, freeing you up to do other important things – like extracting precious treasure from every cave, bush, and grain of sand.
The Nicosia-based publisher Hype Train Digital and Sao Paulo-based developer BEHEMUTT are teaming up to release the base building/open-world 2D game Nova Lands. It skips its planned Early Access phase and releases in full on June 22 for PC via Steam.
Forever Skies – June 22
Forever Skies is a sci-fi survival game set after an environmental catastrophe ravages Earth. Players commandeer a high-tech airship that doubles as a home, workshop, and laboratory while exploring the ruins of our civilization and unexplained anomalies above and below the toxic dust blanketing the planet's surface.
Unlike similar games, Forever Skies puts an emphasis on science as a survival tool. Players can build and customize numerous machines, analyze scanned items, reverse engineer lost technology, and research novel ways to obtain food and other resources.
The game is being developed by Far From Home in Wroclaw, Poland. The studio features developers from Techland (Dying Light, Dead Island), The Farm 51 (Chernobylite), Bloober Team (Layers of Fear), and Larian Studios (Divinity Original Sin, Baldur's Gate 3).
The PC version of Forever Skies will launch on June 22 via Steam Early Access. The developer plans to keep it in Early Access for roughly a year. Updates bringing additional modules for the airship, gardening, and more locations to explore will be swiftly introduced post-launch. Co-op play is also planned for the future.
The Bookwalker: Thief of Tales – June 22
The narrative adventure from DO MY BEST and publisher tinyBuild is stepping off the page to take on PlayStation, Xbox, and PC this June. The upcoming title lets players dive into the worlds of fiction to track down and steal legendary artifacts like Thor's hammer or Excalibur in a quest for redemption from writer's block.
Journey through written worlds ranging from medieval prisons to snowy mountains and sci-fi spaceships, with each having its own rules, challenges, and unique environments. Solve unconventional puzzles, engage in turn-based combat, and use the mystical power of ink to manipulate your environment and solve mysteries. Persuade, deceive, or battle against enemies, including vicious Ink Eaters, shape-shifting entities, and the writer's police seeking to censor you as you make your way through each book's pages.
The Bookwalker: Thief of Tales is out on June 22 for PS4 and PS5, Xbox One and Xbox Series X|S, and PC via Steam (with a playable demo available now on Steam) and Epic Games. Check out the game's official trailer below.
NUKITASHI – June 23
Publisher Shiravune announced that Qruppo-developed romance-comedy visual novel NUKITASHI will be coming to PC via Steam on June 23. This will be the English release of the game, which was originally released in Japan as Nukige Mitai ni Sunderu Watashi wa Dou Surya Ii Desu ka? in 2018. 
The game is a unique take on the genre, as it follows the anti-copulation resistance fighters of No Love, No Sex as they fight against draconian laws such as Pervert Law and its sex-crazed proponents on the island of Seiran.
The Steam version will support English, Simplified Chinese, and Traditional Chinese with full Japanese audio. Those interested in the game can wishlist it now ahead of its release.