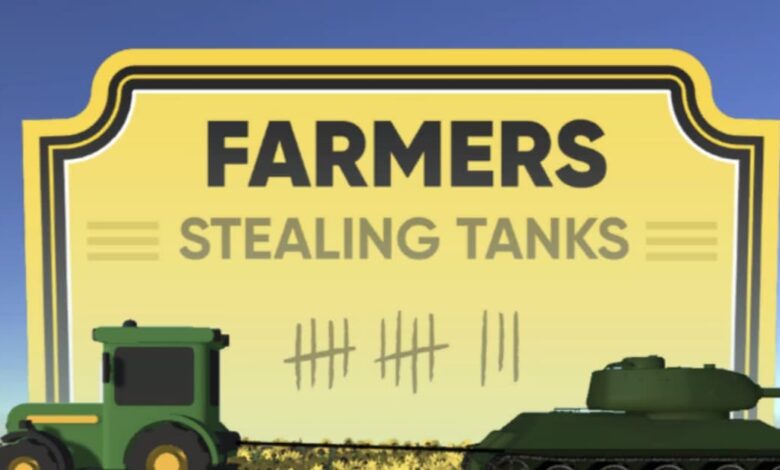 Unfortunately, there is a war going on in Ukraine. The Russian invasion still continues, and every day we hear news about what heroic Ukrainians are doing for their country. Of course, the news about the farmers stealing Russian tanks was one of the biggest stories in the international media. A game developer named Pixel Forrest decided to create an indie game about this to support Ukraine, and here is Farmers Stealing Tanks!
The low poly graphics of Farmers Stealing Tanks make it quite interesting and fun. It is a browser game that was developed in Unity. Additionally, you can also support Ukraine by donating money to the official game page on itch.io.
Farmers Stealing Tanks Gameplay
Farmers Stealing Tanks is an indie game that has a small map, and you need to repeat the same action to earn a score. You need to find tanks that are running out of fuel and take them to your shelter. Players will use a tractor, and they can find different power-ups that will boost their tractor.
While you are looking for tanks with no fuel, you need to avoid other tanks that can shoot you. In addition to tanks, you also need to avoid helicopters, which fire missiles at you. You have three lives, and each time you are hit by a missile, you will lose one.
Should You Play Farmers Stealing Tanks?
If you are looking for a casual game that you can play on your browser, then Farmers Stealing Tanks may be a great option for you. The game has a relaxing concept, and you can even drift with your tractor. Players can also get a free life by ramming the existing tanks with the ones you are pulling.
You can even support the game, which directly supports Ukraine. SLAVA UKRAINI!