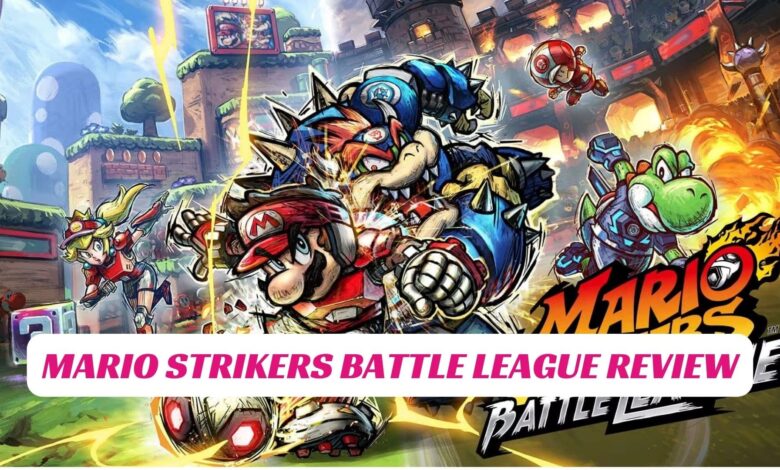 Mario Strikers Battle League is the most recent of the Nintendo Switch games we encounter when Mario and his friends have had enough of adventures and want to try something new. 15 years later, after previously engaging in tennis, golf, party games, and other such activities, the team abandons Daisy and heads down to the football fields.
Let's start with the Mario Strikers Battle League story. No. After all, even Mario Tennis has a plot, and you'd be mistaken if you think they're explaining why Daisy isn't there. Mario Strikers Battle League doesn't even have an arcade mode in which characters compete against each other using tiny lines. Nothing will get in our way because we've come to play football.
Our battle is a football challenge with its own set of rules, and all game types are well prepared for it. You build your squad by choosing five characters from Mario and his friends, and you fight hard against opponents made up of artificial intelligence or human gamers. You earn money based on the outcome of the match and use it to buy various items that affect the players' power.
10 Different Characters Available on Mario Strikers Battle League
Everything I mentioned in the preceding paragraph is the essence of the game. There are ten different characters from the Mario universe, each of whom can be personalized to the point where the differences are insignificant. If you want to play alone, you can enter short games or tournaments, and if you want to play with others, you can do so by fighting online or gathering a total of 8 friends and playing matches.
Aside from quick matches, tournaments, and online play, the only thing we can do is customize the characters, and even that is limited. The equipment we purchase works by transferring some of the character's abilities to the opposing side. To make the helmet you buy for any character more suitable for your playing style, you can modify it by increasing attack power and decreasing pass power.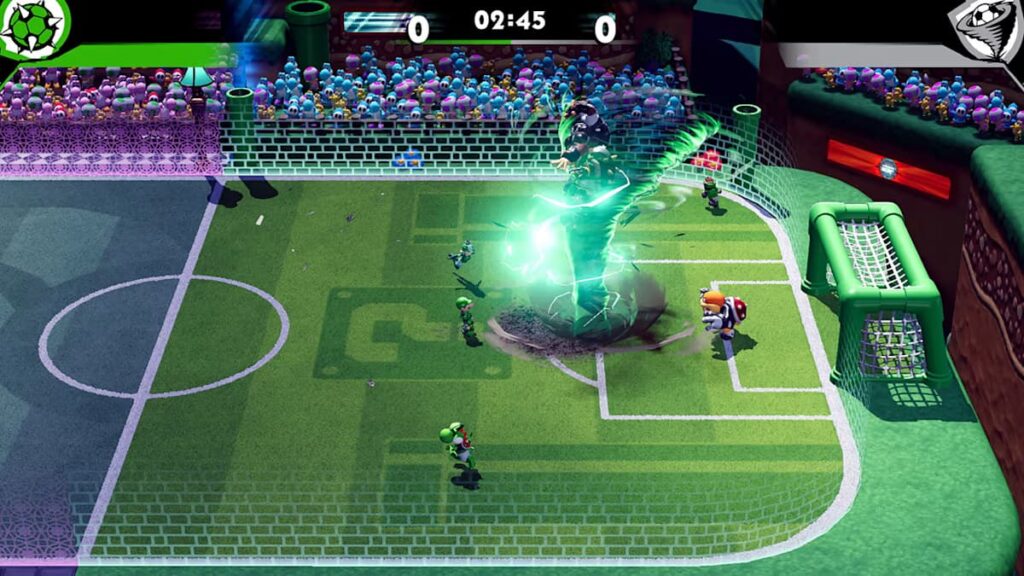 Mario Strikers Battle League's Goal is to Force Us to Play a Football Game
While it may not appear to be much at first glance, Mario Strikers Battle League is. However, Mario Strikers Battle League's goal is to force us to play a football game, and the gameplay is so good that you might overlook the flaws. Outside of Tsubasa, I'm not a huge football fan, and I play far too many football games. So, did I find this game interesting? Definitely!
I haven't played the previous games in the series, so I can't compare them. We play football matches faster and with more rule flexibility. We select five of the characters, each with their own set of strengths and weaknesses, form a team, and attempt to score.
While playing the game, "Kunio-kun no Nekketsu Soccer League," also known as Goal3, came to mind rather than a traditional football game. It's perfectly legal to foul players, the characters all have unique moves, and we're about to see some exciting fights. Meanwhile, we can pick up items that fall on the field and throw them at the opponent's head.
The instructional section has a very simple structure and contains all of the information you need to play the game comfortably. It is legal to use almost any method to get past opposing players and score a goal against the opponent's goal. If you don't have an opponent, you can knock them down, pass through the players and walk up to the goal, clear the space with items thrown by the crowd, or prepare for a super shot.
Remember that every move you make in Mario Strikers Battle League gives you an advantage and a reward. It is legal to hit an opponent who is not in possession of the ball, but fans may become enraged and throw items onto the field that only the opponent can use. Alternatively, an opponent who successfully evades your attack may temporarily gain speed. If you force your opponent against the wall, it may become entangled in the electric lines and become inoperable for a short time.
The shiny sphere that occasionally falls on the pitch allows you to shoot "Hyper Strike" super shots. Two goals are scored when these shots enter the goal. The problem is that these shots take a long time to prepare, and if you miss, the goalkeeper's defense relaxes significantly. Each character's Hyper Strike, which is fired with a unique and stunning motion, is powerful enough to change the course of Mario Strikers Battle League. Assuming you didn't get kicked before taking the shot.
It is critical that you choose players based on your playing style and play to their strengths. If your team has Bowser, for example, you direct the passes to him so that he can shoot. For more accurate use, Hyper Strike with a high character is required. You can even arrange them a little with the characters' equipment.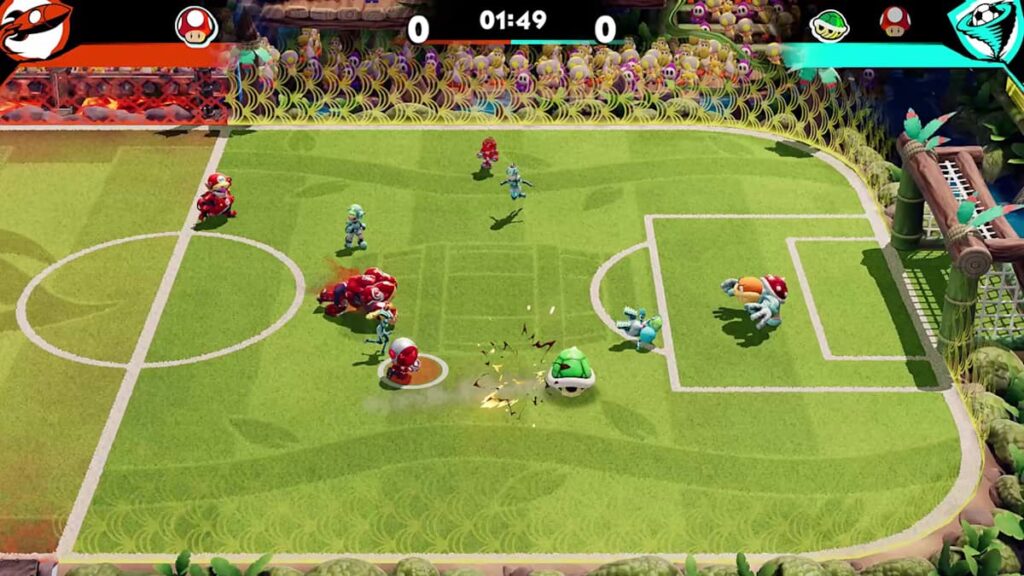 Final Thoughts About Mario Strikers Battle League
Mario Strikers Battle League is an enjoyable game with an excellent match experience. It's a lot of fun to get your friends together and play matches with up to 8 people at the same time, as well as fight with different players online. You can easily lose track of time in the online section, where you go to play two matches and then leave. The main issue, however, is a lack of content in the game.
If you don't mind the content being limited to only 10 characters and 5 stadiums, the customization system appearing large but lacking in detail, and the very few things you can do if you want to play alone, Mario Strikers Battle League ($60 on the Nintendo Store) is perfect for you.