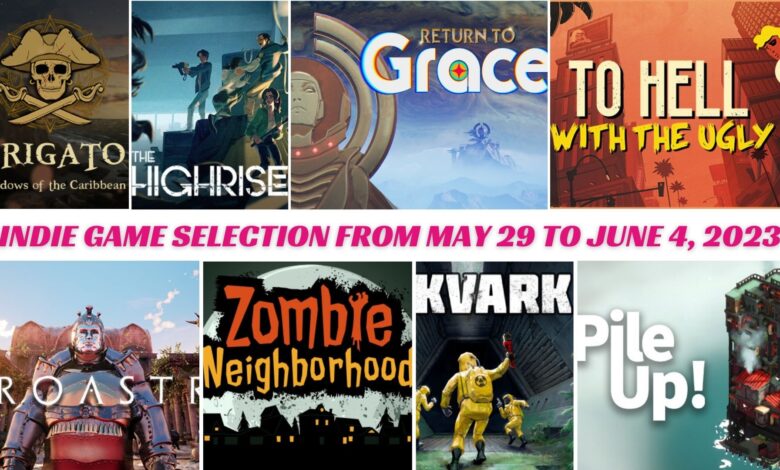 Indie games are popular among PC gamers lately. This week seems to be active in the indie game world. As the IndieWod staff, we have compiled for you the most entertaining and high-quality indie games that will be released this week. To discover more indie games, stay tuned to IndieWod's indie game bundle.
Frigato: Shadows of the Caribbean – May 29
Pirate fans who want to explore the Caribbean without getting jailed or handed a hefty fine will soon be able to do so with a new real-time stealth indie game. Frigato: Shadows of the Caribbean will take players on a journey across the seven seas, allowing them to uncover treasure and ancient curses as they battle the British Royal Navy.
The title will be a challenging tactical stealth game with a variety of environments to explore, including ships, ports, mystical islands, and more. Stealth tactics will be key as players will need to knock over crates, start fires, and more to avoid detection.
The game will also be influenced by player choice, as their actions will affect the loyalty of their crew. Developers Mercat Games intend for players to be able to take on a more gentlemanly pirate approach or become ruthless and bloodthirsty as they explore the island.
Frigato: Shadows of the Caribbean will be released on PC via Steam Early Access and will also come to Xbox One, Xbox Series X|S, and Nintendo Switch at a later date.
The Highrise – May 29
Aliens have invaded Earth and sealed off a high-rise building in the first-person survival indie game The Highrise. assemble materials to create combat weapons and tools for survival. At the very end of your desperate survival, you must locate and send a rescue signal.
Facilities like shopping malls, offices, and homes, which were previously crowded with people, were very familiar and friendly spaces to us before this apocalyptic era. They will now, however, arouse fear in a sense of emptiness and heterogeneity that no one can identify. Additionally, the vacated or omitted space has been kept to a minimum because real skyscrapers served as inspiration. Every floor and facility in the building will appear to the players to be a very real space.
The Highrise will be released only for PCs on Steam on May 29. You can also find a demo for the game so that you can try it and decide whether it is worth buying or not.
Return to Grace – May 30
Return to Grace is a new sci-fi narrative adventure by indie game developer Creative Bytes Studios. It follows archeologist Adie in 3820 AD on a "wildly dangerous" mission to uncover what happened to an ancient artificial intelligence called Grace.
The player will explore a large retro-futuristic facility on Ganymede while solving puzzles and hacking for clues in this first-person narrative experience. Adie will be accompanied by a fully voiced cast of character AIs who help provide support and humor along the way.
Adie has unearthed the ancient resting place of the renowned Grace, an artificial intelligence that was once hailed as humanity's greatest technological achievement. But the only inhabitants of the site are fracture variations of the Grace AI, each with their own quirky personalities and unknown motives.
You must choose which personality to build relationships with as you explore the wondrous 60's inspired sci-fi setting. Adie will be able to make a difference through her decisions, which will affect story branching, clue discovery, and the game's thought-provoking conclusion.
Return to Grace is set to release on May 30, 2023, for PC platforms via Steam and the Epic Games Store.
To Hell With The Ugly – May 30
To Hell With The Ugly is an action-adventure indie game set in 1950s Los Angeles. You play as Rock Bailey, a blond and strikingly handsome young man who systematically refuses advances to the dismay of those around him. He is kidnapped outside the Zooty Slammer jazz club and wakes up in a hospital. It is up to you to uncover the truth behind this kidnapping and get your revenge.
The gameplay is a mix of narrative and fighting in which you talk to characters, sneak into new areas, and fight with mobsters and villains using turn-based combat. This unique mix of storytelling and action makes To Hell With The Ugly stand out from the crowd.
The art style is also something to behold. Where most indie games tend to go in one of two general directions – cutesy pastel palettes or dark and gritty grimness – To Hell With The Ugly also stands out with its head-to-toe reds and oranges swathed in warmth. The result is a breathtaking depiction of 1950s LA that looks like it could come straight out of a film noir movie.
To Hell With The Ugly will be available on May 30, 2023, only on PCs. You can find the game on Steam and add it to your wishlist if it hasn't been released yet.
Zoroastra – May 30
Zoroastra is an indie game that has been in the works for a while now. It's a hybrid of 3 different genres, with some puzzle–platformer elements, some open-world survival RPG parts, and a little bit of action-adventure.
The game is set in the ancient world around the Mediterranean Sea, which makes for an interesting setting that doesn't see all that many games take advantage of.
You will fight for freedom, survive for salvation and solve the mysteries of Zoroastra.
The game is in Early Access on Steam right now. The developers work on the final touches on the game. The release date of Zoroastra has been set on June 30, so you will be able to play the game very soon.
Zombie Neighborhood – June 1
Zombie Neighborhood is a point-and-click survival indie game where the world has descended into chaos as the Zombie apocalypse has begun. When faced with this situation, you must assist a small group of individuals who are very dissimilar from one another in surviving together for the longest period of time (without killing one another!).
In Zombie Neighborhood, your goal is to stay alive as long as you can while utilizing the available resources, exploring the scenario, avoiding zombies (or fighting them), enhancing your safe house, and praying for quick assistance.
Zombie Neighborhood will be released on June 1 on Steam with its full version. Developed and published by Playlearn, the game will be available only on Windows PCs.
Kvark – June 2
Every day, another retro-inspired first-person shooter seems to be announced, but this one from developers Perun Creative and Latest Past appears to offer something more unique. Kvark is set in a post-apocalyptic world and focuses on one man's struggle to survive.
You will battle through hordes of enemies in fast-paced fights featuring a wide range of weapons, from wrenches to grenades, bazookas, and the iconic EK-48.
Simple to intricate puzzles will challenge and reward you with hidden Easter eggs, secrets, and achievements.
Stylized retro graphics help bring back gaming nostalgia, with a strong "just-one-more-level" feel that should provide for some explosive fun.
Kvark will release for PC via Steam early access on June 2, 2023. It will then hit PlayStation 4 & PlayStation 5, Xbox One, and the Xbox Series X|S.
Pile Up! – June 2
Pile Up! is an entertaining casual building indie game with simple controls and no punishment for failure, this family-friendly game is a blast to play with friends.
In the strategic building game, Pile Up!, you must construct homes, meet the needs of your populace, and manage risky structures in a variety of ways on a limited amount of land. But don't let your guard down in this relaxed setting—we're just using these lovely songs to relax you so we can watch you destroy everything you've been working so hard to build.
Your main objective is to populate the city as much as you can with dangerous structures so that as time passes, new technologies and structures will become available. And you construct factories to use those new structures! Your city can be built up using the unique buildings that each factory will provide.
Developed by indie game developer Remoob and published by Next in Game, Pile Up! is set to be released on June 2 only for Microsoft Windows PCs.