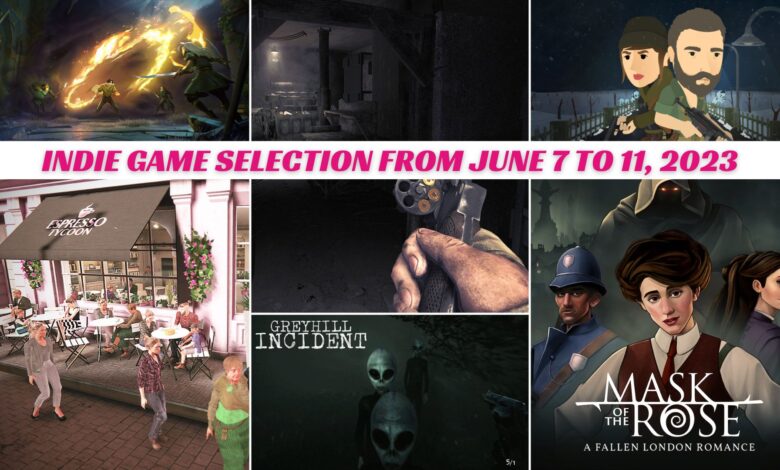 IndieWod's indie game selection includes the best indie games of this week. From a coffee shop management simulation Espresso Tycoon to one of the most famous survival horror game series' latest releases Amnesia: The Bunker. You may find an indie game that is worth looking at in this selection.
Espresso Tycoon
There's more to coffee shop management than frothy cappuccinos and trendy lattes. In Espresso Tycoon, you will be responsible for everything from sprucing up the decor to managing cafe operations.
The game looks to be a cute, whimsical take on restaurant simulation games. With a variety of furniture and decorations, it's up to you to create a cafe that reflects your vision and draws in a loyal customer base.
Developed by Dream Way Games, Espresso Tycoon offers a modern take on the classic tycoon genre. You can check out Lawod's preview to learn more about Espresso Tycoon. It's now available on PC via Steam.
Nocturnal
Ardeshir, a soldier of the Enduring Flame, returns home to Nahran after a difficult journey across a troubled sea, where everything is obscured by a strange Mist.
To discover the cause, you must wield your ancestors' sacred flame and carve your way to the island's core, where secret locations and powerful abilities await.
Nocturnal is a mysterious action-platformer game that draws attention with its gameplay features, which include fighting, puzzle-solving, and exploring altogether.
Nocturnal is available on Steam for PCs, and the game is expected to be released for Nintendo Switch and consoles in the future.
Mask of the Rose
From the developers of Fallen London comes this gothic romance visual novel. Expect green-tentacled creatures, underground Londoners, and love. And maybe even a little murder and exploration.
The premise of Mask of the Rose is a bit bizarre, but that's the point. The game is set in the world of Failbetter Games' Fallen London universe, which has already seen two browser-based narrative RPGs and a spinoff title.
You will take on the role of a character living in a boarding house, sharing it with a medical student, landlady, and local constable. All these characters have their own backstories and dramas for you to get involved in or not.
What's interesting about Mask of the Rose is that the dating sim doesn't always revolve around the player finding love. There are plenty of other ways to explore the city and get involved with its residents, including helping out in a police investigation or simply exchanging bon-mots. That's a good thing, too. It gives the game a more dynamic and interesting feel.
Mask of the Rose was released on June 8 on Steam and Nintendo Switch.
Greyhill Incident
Greyhill Incident is a survival horror game whose story takes place in 1992, where the residents of a small neighborhood are scared and paranoid due to an increase in paranormal activities. They trust nobody, especially the government, and avoid calling the police, boarding up their windows, and founding a neighborhood watch instead.
You play as Ryan Baker, an average guy equipped with a baseball bat and revolver (limited ammo). Throughout the game, you will need to find useful items, solve puzzles and meet other neighbors to survive. Combat will be available, but it is mostly a stealth game. 
The game was launched digitally on Steam, PS4 and PS5, and Xbox Series X|S and physically on June 9, 2023.
Amnesia: The Bunker
Frictional Games developed and published Amnesia: The Bunker, a survival horror video game and the fourth in the Amnesia series. The game follows a French soldier who is trapped in the titular WW1 bunker with a monster and must find a way to escape.
With a monster on the prowl and time running out, Amnesia: The Bunker is a bold new direction for the series that stretches the player's endurance with intelligent scares.
The game shatters the illusion of control that has defined past games and instead puts the player into an inescapable maze of dread and fear.
There is no need to talk more about an Amnesia game. It offers a lot to survival horror fans. The game is available on Steam for PCs, on PS Store for PlayStation 4, and on Xbox Store for Xbox One and Xbox Series X|S.
Repella Fella
Repella Fella is an interactive, branching cinematic adventure set in post-apocalyptic Australia. Alternate between three intertwining stories and replay the game many times to see all possible outcomes.
Developed by Misadventures, the creators of Ray, Repella Fella offers a spiritual successor that features a South Park-esque animation style that perfectly suits its bizarre tone. With a rich story, impressive voice acting, and multiple branching choices, the game offers plenty of ways to play through its story.
Repella Fella is now available on Steam only for PCs.